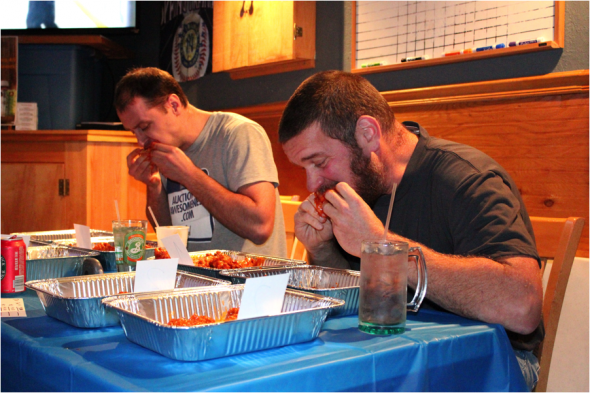 Greene's Ale House held an inaugural wing-eating contest on Nov. 13.
Sean Ohnmacht, owner of the bar and grill, said Greene's had been represented in the Oswego County wing eating contest for the past two years and won both times.
With a $20 entry fee, the idea to host his own contest spawned from taking part in the county-wide festival, as well as a way to promote his own hot wings. The Buffalo Bills were also slated to play in the Thursday night NFL football game against the Miami Dolphins, which was appropriate for such an occasion.
"I wanted to tie [the contest] in with tonight's Buffalo Bills game," Ohnmacht said. "Buffalo wings, Buffalo Bills."
Far less showed up for the competition than Ohnmacht had hoped, however. Only two men, Jason Noel and Eric Enwright, were up for the challeng
The original prizes at stake were awarded following the conclusion of the bout. Noel took home the grand prize of two fifth row tickets to a Syracuse ACC conference basketball game later in the year, which Ohnmacht said go for $100 each in face value, in addition to a $50 gift card to Greene's Ale House. Enwright was awarded a complementary $25 gift card to the bar as well for participating.
After the competition, both men were visibly taken back by how much food they consumed in just eight minutes. Upon winning, Noel said he felt good and had a great time.
"It was my first competition," Noel said. "I happened to be out drinking and saw they had a competition so I figured I'd do it."
Noel said smiling that he expected to win and he would be bringing his wife Tammy to the upcoming Syracuse game with him.