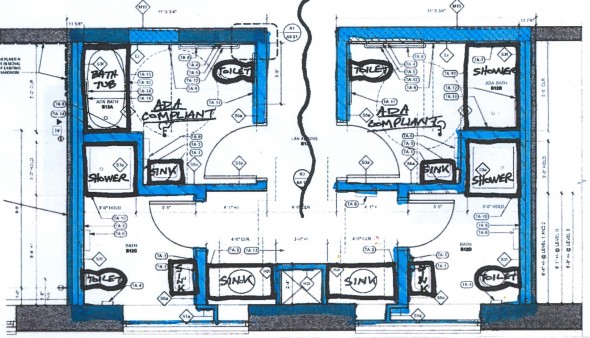 When Waterbury Hall renovations are completed next summer, one of its many new features will be bathrooms both men and women will be using at the same time.
According to Oswego State Residence Life and Housing, the Waterbury renovations are designed to accommodate what is projected to be students' wants and needs in the year 2020. Gender-neutral bathrooms are part of that design.
"About a year and a half ago, we had hired mock architects to do a program study," said ResLife Assistant Vice President Richard Kolenda. "And when they came here they did focus groups and included in those focus groups were administrators, housing folks, hall directors, RAs and students from Waterbury, Scales and Funnelle."
Kolenda said the focus groups examined Waterbury Hall and considered several aspects of the building and campus as a whole to see what improvements could be made to prepare for students' future needs and wants.
"One of the things that students really wanted was the idea of privacy," Kolenda said. "One of the main reasons why students move off campus is that they want privacy. They don't necessarily want to share a gang bathroom. That's one of the things."
Currently, a standard bathroom in a residence hall on campus has three bathroom stalls, three shower stalls with one having a tub and eight sinks and mirrors. The designs for the new bathrooms would be a community bathroom with a collection of private bathrooms. According to Kolenda, there would be four individual bathrooms and in those bathrooms, two of the four will be handicapped accessible, one will have two tubs, and each will have a shower, sink, toilet and its own door.
"It's just like a bathroom you would have in your own home," Kolenda said.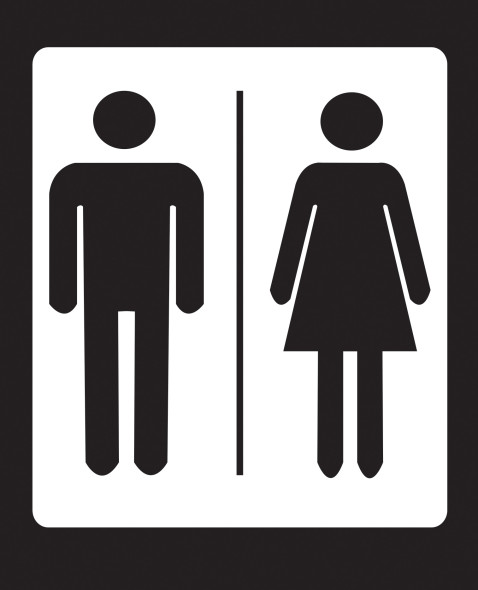 Besides the individual stalls, there will be two sinks and mirrors at the far corner of the common room for students to conduct bathroom activities that don't involve toilet or shower use, like brushing teeth or combing hair. This raises the question of capacity. If the showers and toilets are in the same stall, students might worry about how often the facilities are available, such as in the morning rush for showers and getting ready for classes. Kolenda insisted that students will adjust to the automatic schedules of bathroom usage.
Along with privacy of all students, Kolenda added that a big reason for the gender-neutral bathrooms is to highlight inclusion among the student body.
"We are getting students who are transgender students who require privacy and somewhere down the line when we start making new housing, we can have men and women live on the same wing because we have bathrooms made for both men and women," Kolenda said. "We can accommodate and be inclusive to all those who live in the building."
The Oswego State Pride Alliance said the organization is open to opportunities like this that promote student inclusion.
"Our organization has always been in support of a more inclusive and diverse campus, the availability of gender-neutral bathrooms being a part of this ideal," the Pride Alliance said in a statement. "However, the SUNY Oswego Pride Alliance has never pushed nor acted strongly toward this topic, we have always been in support of an open discussion with SUNY Oswego administration regarding the addition of more accessible gender-neutral bathrooms to the SUNY Oswego campus. To our knowledge, this has been a topic of discussion for a significant amount of time. However, the Pride Alliance has not been involved with the implementation of these facilities. Our organization will always be in support of accessible gender-neutral bathrooms and would be more than willing to work with administration to assist in the addition of such facilities."
Kolenda said the plans for these kinds of bathrooms have been expanding at various colleges and universities across the country. Syracuse University has a number of these gender-neutral bathrooms. The same architects that designed the bathrooms at Syracuse University are the ones to also design them at Oswego State.
"From the looks of it, they have been very well received," Kolenda said. "They have said students love them. This is what I was told."
Kolenda and several other members of the administration have been stopping in at hall council meetings at several of the residence halls on campus to inform students about these plans and gather their opinions on it.
"I think that having gender-neutral bathrooms could be a good thing but the one thing that concerns me is all parties, both males and females and whether they will become comfortable with the idea of sharing a bathroom with the opposite sex," senior Caileigh O'Connell said.
Ohio State University is one of the large-scale universities that has co-ed bathrooms in its residence halls. According to The Lantern, Ohio State's student newspaper, some design changes were made to the co-ed bathrooms in January of 2013 because it was believed there were harassment issues within the closed area. This was not verified by college administration, however.
Whether any such similar problem could occur at Oswego State is unknown at this time.
"In regards to that, it's hard to tell if something like that would be a problem or not," Kolenda said. "We haven't had any experiences with it yet. But we're just going from what we've seen and heard, which is that students love this style of bathroom and it is again, inclusive, and that it covers all students needs."
The bathrooms in Waterbury will serve as a sort of test for whether or not to expand the bathroom plans to other buildings. Following Waterbury Hall's completion, Scales Hall is scheduled next for renovations in the fall of 2015 and Funnelle Hall in the fall of 2016.
"Once we do this and we get positive feedback, we'll think of expanding this," Kolenda said. "Or maybe there's another deign that comes up that we will try with other buildings. I think we have to wait and see."
Kolenda acknowledged that he would be willing to hear out student opinion on the bathroom situation once the Waterbury Hall renovations are completed. He said he is not opposed to any modifications, if it calls for it.
"We want everyone to be able to function in this place and be comfortable in this place," Kolenda said.
The Waterbury Hall renovations begin in