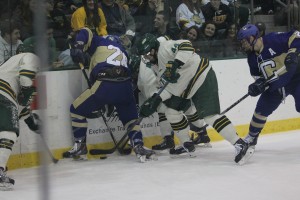 No. 2 Oswego State comes into Saturday night's 50th anniversary weekend finale off another early season offensive explosion in Friday night's 9-1 win over SUNY Canton at the Marano Campus Center Arena. Tonight's opponent, Nazareth College, will pose a much greater threat to the Lakers than the Kangaroos, a program only in its third season at the varsity level.
The Golden Flyers picked up their first loss of the season last night against their ECAC West rivals, Hobart College, 5-2. However, the visitors for tonight's contest are receiving votes in the USCHO.com polls due to their impressive play thus far.
Nazareth College, coached by former Laker head coach George Roll, started its season with a 7-1 decision at home against the SUNYAC's the College at Brockport. It followed up that performance with a win and tie on the road against Utica College, a perennial NCAA tournament bid contender.
Sophomore goaltender Brandon Lane will make his Golden Flyers debut tonight after transferring to Nazareth College in the offseason from Division I Robert Morris. He will be facing not only a hostile crowd on this celebratory weekend, but one of the hottest offenses in Division III as well.
Nazareth College should be the toughest test for Oswego State thus far in this young season as it prepares for a tough schedule to close the fall semester.
By the numbers:
1-Following last night's 9-1 victory over SUNY Canton, which included three power play goals on four opportunities, Oswego State is now first in Division III in scoring offense and power play efficiency. The Lakers, averaging 7.25 goals per game, are tied with Massachusetts-Boston for the highest scoring offense and alone atop man advantage efficiency at 44.44 percent.
7-Nazareth College head coach George Roll was the head coach for seven seasons at Oswego State. He won 118 games with the Lakers and led the program to its first national championship game appearance (2003) since 1987.
19-In their first four games of the season, the Lakers hold a goal differential margin of plus-19. While this showcases the team's offensive prowess, scoring 29 goals in four games, it also reveals a strong defensive effort.
50-Tonight's contest against Nazareth College marks the end of the men's ice hockey program's on-ice celebration of its 50th anniversary.
Scoring/Special teams breakdown:
Scoring offense:Oswego State-7.25 goals per game (T-1st nationally)
Nazareth College-4.00 goals per game (T-13th nationally)
Scoring defense: Oswego State-2.50 goals allowed per game(T-23rd nationally)
Nazareth College-3.00 goals allowed per game (T-33rd nationally)
Power play:Oswego State-44.44 percent [8 of 18] (1st nationally)
Nazareth College-23.73 percent [5 of 22] (T-19th nationally)
Penalty kill:Oswego State-87.50 percent [14 of 16] (T-15th nationally)
Nazareth College-76.20 percent [16 of 21] (48th nationally)
Goalie matchup: 
Oswego State
Junior Justin Gilbert: (3 GP, 3-0-0, 1.15 GAA, .945 save percentage)
Nazareth College
Sophomore Brandon Lane (transfer from Division I-Robert Morris): (5 GP, 3.17 GAA, .896 save percentage)**
**-2013-2014 statistics
Player to watch: Oswego State freshman forward David Ferreira: Ferreira makes his collegiate debut tonight on the fourth line for the Lakers. The Riverside, N.J. native put up 230 points in five junior seasons before coming to Oswego State and is joining sophomores Andrew Barton and Krystian Yorke on a line that was involved in five of 10 goals at SUNY Fredonia two weeks ago and sees quite a bit of ice time for a fourth line. Ferreira may just have himself a coming out party this evening.
Prediction: 4-2 Oswego State