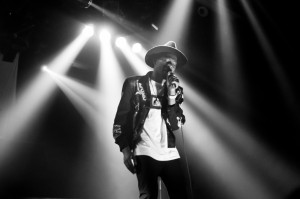 The most fashionable hip-hop album of the year has finally arrived. Brooklyn-based MC and part-time style icon Theophilus London has released his second full-length album "Vibes," and the Kanye West-helmed album lives up to its simplistic name. London's extensive genre-borrowing and mashing draws from a range of styles, from soul, pop, dancehall, electro and the classic R&B sounds of decades past.
After dropping "Rio," one of the most innovative and fun R&B singles of last year with the Menahan Street Band, the eyes of the music scene were on the Trinidad-born rapper as to how he could live up to the hype machine that surrounds him. London took most of the calendar to quietly get back into the studio with collaborators that include legendary R&B impresario Leon Ware, Blood Orange frontman and producer Dev Hynes and Kanye West as a featured artist and executive producer. What resulted from the toil of London's efforts is "Vibes" and the vibes the album exudes are absolutely palpable.
"Water Me" featuring Leon Ware, "Neu Law" and "Take and Look" are prime examples of the melding of electronic sounds with the modalities of Motown Records. These tracks are most similar to "808's & Heartbreak"-era Kanye, without the resounding levels of pathos or self-pity. "Can't Stop Now" is where West finally steps out from behind the production boards and appears to have the most genuine fun on a song in years. For fans of West's earlier, warmer, soul-influenced sound, this track is a treat to listen to and a pleasant departure from his current body of work.
"Do Girls" is without a doubt the best track on "Vibes." Originally released as a snippet of a demo, the finished track now boasts a backing guitar that elevates this song into a dark, rhythmic ode to London's womanizing abilities. "Tribe" featuring relative newcomer Jesse Boykins III is London taking the party downtown and infusing house beats with his acerbic, name-dropping brand of lyricism. The album's closer "Figure It Out" has Dev Hynes and the fathers of new jack swing Force MD's coming together to craft a down-tuned R&B slow jam in the vein of Daft Punk's "Something About Us" or just a quiet storm station from the '80s.
Theophilus London's "Vibes" is confident to say the least. It's draped in the finest fabrics and smoking out of a cigarette holder in the back of an elegant salon somewhere. It doesn't feel out of place being played at a house party or on the runways of Europe. At times, listening to it feels like an alternative soundtrack to Nicolas Winding Refn's "Drive." It's a dark, eerie album that's still danceable for nights where you just want to dress up and have a wild night out on the town.