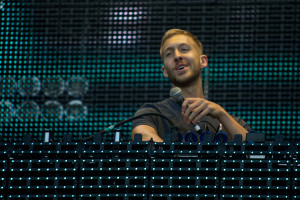 In 2012, Calvin Harris, born Adam Richard Wiles, experienced what it's like to have an album climb the Billboard Hot 200. Reaching the 19th position, Harris' fan-base grew astronomically. While already a well-known electronic-dance producer due to the moderate success of his previous albums, Harris' Top 40 recognition seemed well overdue as "18 Months" featured many well-known artists including Florence Welch, Ellie Goulding and Rihanna.
Now, upon the release of his fourth album titled "Motion," Harris hopes to maintain his title as one of the greatest electronic-pop crossover artists ever. Whether or not "Motion" can be recognized as a stride forward for the sub-genre is    another story.
Nothing particularly revolutionary exists on "Motion." Each song is oddly similar to a track on "18 Months," and while there is a certain appeal to the entertainment provided by the record, certainly there is criticism to be made about its lack of dimensions.
A replication of "Feel So Close," "Summer" is one of the album's least favorable tracks. Showcasing Harris' groggy vocal styling, "Summer" adds nothing new to the young singer's repertoire. The fact that the song was released so preemptively to the album lends itself to irrelevancy.
In contrast, there is "Outside" featuring Ellie Goulding. Providing the record with its most spectacular track, "Outside" once again acts as a reflection of Harris's previous album, "18 Months." Strikingly similar to "I Need Your Love," this track focuses heavily on dance-pop beats as it is juxtaposed with wispy vocals. Unlike "Summer," "Outside" is worth listening to purely on the appeal of entertainment. Flaunting a fiery beat furthered through an uncanny sense of intensity, "Outside" holds all the pieces of a potential hit.
The album's most subdued track comes in the form of "Ecstasy" featuring Hurts. Slow and burning, "Ecstasy" exists in a bordering space of sleepiness and beauty. As it never really becomes powerful enough to accomplish a goal, the melody of "Ecstasy" may lead many listeners to press their skip buttons.
In terms of originality, "Pray To God" featuring HAIM is one of the only stand-out tracks on "Motion." Its retro, yet unique sound surely promoted through HAIM's own individuality rather than Harris's, provides "Motion" with a capturing and redeemable moment of reprieve.
For a dance album, content may not be graded as harshly should the entertainment value of said album be high enough. For "Motion," the balancing act weighs heavily against being entertaining enough. On the album, a few key tracks carry the vast majority of the weight while many other songs falter beneath. It's a good effort, but maybe not good enough.