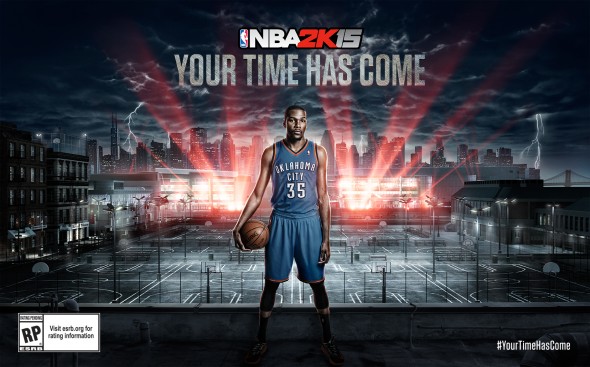 Take Two Interactive is back with the highly anticipated 15th installment of "NBA 2K15" and it is, by far, the best release to date.
The My Player mode has vastly improved, adding key features that were severely lacking in "2K14." For example, the creation of the player himself has become much more customizable. In "2K14," all that was made available were preset faces that had little or no way to make the player look similar to real life. This year, however, Take Two has integrated a face-scanning technology using the Playstation or Xbox camera that comes separately with both consoles. If done correctly, the face-scan looks remarkably close to its real life counterpart, making it so every My Player looks different. If one doesn't own a camera for either console, customizing the player's face has greatly improved by adding more options to change the player's features.
The actual game mode has added a more-involved story mode from years past. 2K14 on next-generation consoles introduced an interactive story mode with dialogue and the ability to choose what to say in interviews and conversations.
Instead of playing his way into the draft, the player starts out as an unsigned free agent trying to make a name for himself. Similar to "2K14," "2K15" has a real-life player take the created player under his wing. This year, however, Take Two had NBA players from around the league come to their studio to record audio to use in My Player mode, as opposed to simply having subtitles when the players spoke last year, making for a better experience all-around.
The My Team mode is also back with improvements over last year's attempt. My Team mode is where one collects virtual cards from card packs to play against other people's teams online to gain a virtual playoff spot. Card packs include players, attribute boosts, uniforms, home courts, coaches and more. One can choose between paying real money to buy packs with, or the option to earn in-game currency by playing games against other players and completing offline challenges.
This year consists of more challenges to complete offline if one's team isn't good enough to play head-to-head online. As of right now, there are only three packs to choose from, however, Take Two has a tendency to add in packs as the NBA season progresses either after something significant happens in real life, or just as time passes.
Playing online is also more balanced than in 2K14. Instead of having a team of low-rated players play an unstoppable team, like in 2K14, 2K15 makes it so teams have requirements they must meet before playing head-to-head. For example, a team is restricted to having one silver player (a medium-rated player) among a team of bronze players (low-rated players). As one progresses in this mode, things become more lenient and higher-rated players are allowed on a team.
Players can also be auctioned off, a feature that was missing in "2K14." Instead of purchasing countless packs to obtain a specific player, one can bid on a player or buy him outright, if one can afford it.
With so many improvements compared to "NBA 2K14," "NBA 2K15" exceeded expectations on all fronts. It is curious as to what next year will bring as well with so many upgrades in this year's edition, although Take Two hasn't failed its loyal fans of basketball yet.