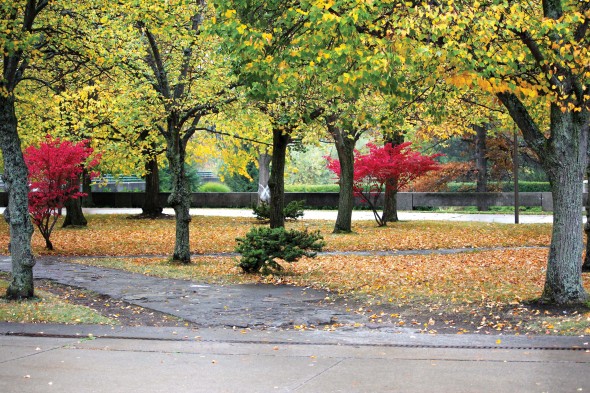 Central New York has experienced an unusually mild autumn this year that has led some to believe that a milder-than-usual winter will follow.
Last Tuesday, a southerly flow of warm air brought temperatures to the upper 70s and near 80 degrees Fahrenheit in some spots of the region, according to the National Weather Service.
A warm winter can sometimes be attributed to greenhouse gases, which are a factor in climate change. These gases trap excess heat energy in the atmosphere during the fall, then it becomes possible the excess heat will make the winter temperatures warmer in comparison to a winter where the temperatures in the fall are colder than average. Although this is a relatively ideal theory when predicting average temperatures for inland areas, it does not change the fact Oswego State is in an area that is favorable for heavy lake-effect precipitation.
"The chance for a mild winter is very dependent on a lot of different factors," said Oswego State meteorology student Marques Younger. "Yeah, El Niño's kicking in, but that doesn't really account to anything. I mean, it snowed the first time I was up here, and we got virtually no snow the next year."
The definition of a mild winter is a winter when temperatures are warmer than average and snowfall rates are less than average. Even if the predictions are correct about Oswego's winter temperatures being warmer than average, those same predictions claim that areas of Canada will have temperatures that are below average to average, according to "The Farmer's Almanac." This is enough to claim it is very possible we might be in for a rough winter.
This is because one of the major components of lake-effect weather is a cold air system moving over a warm lake. Because the rate at which a lake absorbs heat is much less than air, the same will be true for the rate at which a lake loses heat. As a result, the lake will be warm for most of the winter. But where does the system of cold air come from if Oswego's temperatures are warmer than average?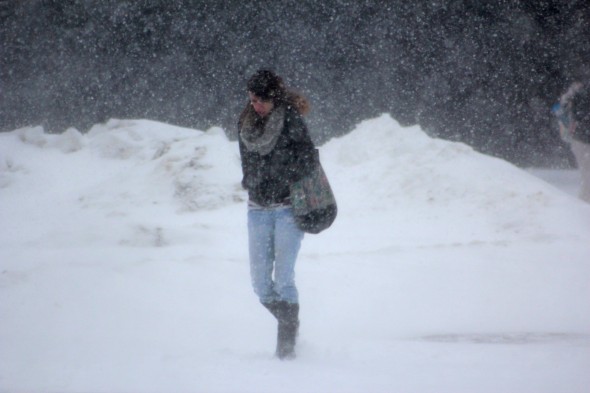 "In order to get a set up like that, you would want some form of a closed low, like a polar vortex near Hudson Bay," said WTOP-TV meteorologist Rick Garuckas.
A polar vortex is actually one of the major components as to why Oswego State received so much snowfall last winter. According to the National Weather Service, the Oswego area received 168 inches of snow last season, about 20 inches above normal, and was the first winter with above-normal snowfall for some time. It was mostly due to the abnormal amount of low pressure systems that brought in cold air from the polar regions, known by meteorologists as a "Polar Vortex." If Lake Ontario gets a few of those coming down from the Arctic, then that means heavy snowfall for Oswego State.
It is highly likely that Oswego might get temperatures that are higher than average in the winter, but it is unlikely the region is getting a mild winter if Canada gets the predicted below-average temperatures. Heavy lake-effect snowfall might be the result of the warm lake temperatures during the warm autumn Oswego has been having, and there is always the possibility of polar vortexes hitting Lake Ontario from Canada.