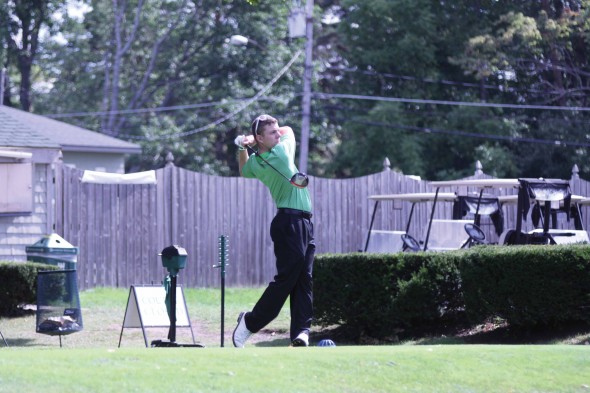 The Oswego State men's golf team wrapped up its fall season this past weekend as it placed third at the 2014 ECAC Division III Mid-Atlantic Championships. Head coach Mike Howard's team ended up with two second-place finishes, two third-place finishes and a fifth-place finish in the five regular season invites it played in. The Lakers' success this season can be attributed to several different golfers, one being junior captain Dan North.
North is a broadcasting and mass communication major who received the honor of being named team captain at the beginning of the season. The native of Ilion, N.Y. says he has embraced the role of being a team leader.
"[Being named captain] is huge, it's really a big honor. It's cool seeing some of these younger guys kind of look up to you and see what the golf program is all about," North said. "Being a friend to these guys as well as a captain and being like a leader has been really cool."
Howard said that when choosing whom to name captain for this year, he was not necessarily looking for the best overall golfer but someone who displayed great leadership skills. North was that guy, and his stellar play this year surely hasn't hurt either.
"Dan is very dedicated to the program, he has been since his freshman year. He makes good decisions on the golf course and off the golf course, which is important to us. He balances academics and athletics successfully, so that was an important component too," Coach Howard said. "Overall, he had all the qualities we were looking for. He's done a great job managing our group of guys and he supports what we're trying to accomplish. He's a fine young man and he's played some real good golf since he's enrolled here."
On the course, North has enjoyed a lot of success this semester, posting some of the best scores of his collegiate career.
"[North] is driving the ball much better. This fall, his scores have come down considerably in practice and in competition. He's improved and he's matured as a player," Howard said.
In early September, the team tied for second place in the 17th Annual Oswego State Fall Invitational, shooting an overall score of 310. It was North who led the way for the Lakers, finishing second overall individually with a two-over 73.
"I played some of the best golf I've probably ever played in that tournament," North said. "It could've been a lot better. There were a couple putts that I wish I could've gotten back, but still I was hitting the ball really well."
The school's athletic department rewarded North's impressive home outing, when they named him Oswego State Male Athlete of the Week, for the week ending Sept. 21, 2014.
North stayed hot as the Lakers grabbed third place in the following tournament, the Elmira Fall Invitational. The captain once again led the way, alongside senior Kyle Brockmann, as the two both shot an 81 (+9), which tied them for fourth individually.
North and Brockmann led the Lakers once again at the end of September, as the team tied for second at the Keuka Fall Invitational. The teammates each posted a 76, as their four-over par rounds were good for a share of fifth place out of 38 golfers.
"I thought we improved a lot this season. We had a couple of guys come in who really increased the competition, and a lot of our other guys worked really hard on their game over the summer," North said. "There's a lot of good talent on this team and increasing our consistency is the biggest thing moving forward."
North and Howard also attributed some of the team's success to having a sports psychologist come in and work with the team this fall. The psychologist did a few sessions to encourage the Laker golfers to stick to routines and help with visualization.
Though satisfied with his team's performance, Howard emphasized that there is still plenty of room for improvement to come in the spring season.
"I thought we had a very productive fall on the golf course. The guys played exceptionally well, but I think we didn't quite meet our goals considering the level of talent we had. We wanted to be consistently in the 300-310 scoring range," Howard said. "We didn't win any tournaments, so we're definitely looking to bring home the hardware in the spring."
When he is not on the golf course, North stays occupied with a number of activities. A self-described fitness fanatic, he spends a lot of time working out at the gym and playing basketball, as well as other intramural sports.
As a broadcasting student, North is very involved with the on campus student-run television station, WTOP-10, as well as the radio station, WNYO 88.9 FM. He serves as a co-host on WTOP's "Oswego Sports Update" as well as on his radio show "The Primetime Panel."
"He has to be one of the busiest guys on campus, balancing all he does with schoolwork too," Howard said.
North also works at the Alumni Association on campus, and says that he likes to think he is one of the busiest students at Oswego State.
"It's pretty ridiculous. On top of all that stuff, I have class, team meetings and work, so I'm always active and staying busy for sure," North said.
North plans to graduate in the winter of 2015 and aspires to work in the broadcasting industry. Whether it is in television or radio, he says he would love to be a professional sports broadcaster.
This offseason, North hopes to get his teammates together to practice at some indoor facilities, including Romney Field House. He says it is important for him and his teammates to keep their swings intact, as consistency is the name of the game and the team needs to put in work to reach their goals for the spring season.
The Laker golf team has plenty of time to practice its strokes with a 6 month offseason now underway. North and his teammates are back on the green on April 13, 2015, as they head to Syracuse for the LeMoyne "Mike Bello" Invitational.