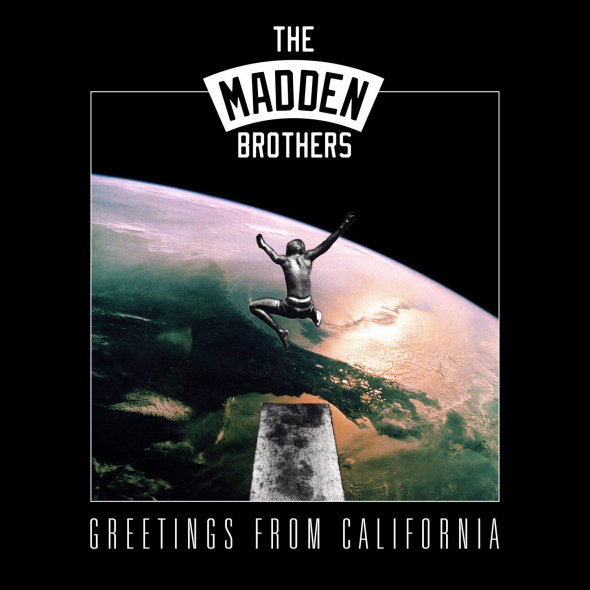 The Madden Brothers, comprised of Joel and Benji Madden, have released a two part album titled "Greetings From California." It's the duo's first album since releasing a mix tape in 2011.
Good Charlotte, a mainstay of the pop-punk scene of the early 2000s made waves with hits like "Lifestyles of the Rich and Famous" and "The Anthem." The Madden Brothers are well-known due to being the ostensible face of the band's previous successes, but the band decided to take a break in 2011 leading to the brothers working on their side projects. Joel took some time to  tend to his children with socialite Nicole Richie and Benji started dating actress Cameron Diaz.
"Greetings From California" is broken into two discs with two very different vibes to them. The first disc opens up with an intro track that carries over something that Good Charlotte would probably do for their albums. The immediate tone can be related  to a popish mash-up of classic California sounds from the 60s and maybe even the slightest hint of reggae. The track "Brixton" sends an upbeat feel through the first portion of the album.
"We Are Done" was one of the singles released prior to the album and its booming chorus drives the track from its begining mellow tones into a piece of anthemic rock. There is a real pop vibe coming from the first disc of the album, which can be seen in the last track of the disc "Love Pretenders." This final track on the first disc sets up  the very different second disc quite nicely. Though the sounds might clash initially, the album ultimately comes together more as two halves of one whole artistic vision.
Another intro kicks off the second disc leading right into "California Rain" where the older California-style rock bleeds through. This track holds some undertones that pay tribute to The Eagles and other older classic rock bands of the same era.
The second disc is almost the opposite to the first, because it has a much more mellow tone that the fast-tempo pop style of the first disc. The album ends with "Empty Spirits," a track with an acoustic feel. The track sounds like it could be a rendition of "Falling Slowly" by Geln Hansard and Markéta Irglová from the movie "Once."
Besides that, the track wraps the album up for The Madden Brothers. If you're a fan of Good Charlotte, check this album out because at first glance it sounds like the band that fans know and love. It will carry over patient Good Charlotte fans until their next album comes out in the near future.