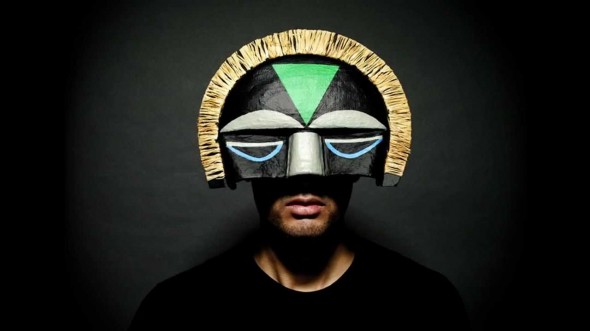 Enigmatic English producer/DJ SBTRKT (pronounced "subtract"), aka Aaron Jerome, has very quietly released his second full-length album "Wonder Where We Land" through UK Indie label Young Turks.
Jerome uses the alias, rather than his own name, in order to support the concept of anonymity among musicians and subvert the culture of celebrity that can often pervade electronic music. He also exclusively performs live wearing a bright collection of indigenous masks that visually echo the tribal beats that Jerome creates.
Jerome has explained, "I'd rather not talk about myself as a person, and let the music speak for itself. The name SBTRKT is me taking myself away from that whole process. I'm not a social person, so having to talk to DJs to make them play a record is not something I want to do. It's more about giving them a record as an anonymous person and seeing whether they like it or not. If they play it, they play it."
"Wonder Where We Land" is sure to make an impact on the music scene with its radical deconstruction and mash up of hip-hop, R&B, soul and post-dubstep. The album's composition rejects traditional four-to-the-floor house beats and instead opts for hazy, kaleidoscopic instrumentation via drum machines and synthesizers emulating live performance. The sounds of "Wonder Where We Land" are distant and filtered, but do not lack for any sense of soul or humanity. A running motif and, apparently, the formula to the album, is Jerome getting the best vocalists into his studio and crafting sounds that will envelop the vocals in lush layers of electronic glitches and distortion, but still gives the listener enough to gleam some kind of meaning from the lyrics in the midst of all the machinery.
Frequent collaborator Sampha makes the most appearances on the album and the young British soul singer's voice never becomes the centerpiece while still deftly working through Jerome's sonic machinations. His voice will most likely draw comparisons to Sam Smith, though this album isn't filled with nearly as much pathos.
Other big name collaborators each get their moments to shine. "New Dorp, New York" is the kind of song that Ezra Koenig secretly wishes he could show to David Byrne because of how similar to the Talking Heads the song is. It's tribal, not overtly electronic, and filled with that vivid energy that only New York City can offer. It could be Koenig's pitch for the lead single for a sequel to "More Songs About Buildings and Food."
Sultry songstress Jessie Ware absolutely dazzles on "Problem (Solved)," while newcomer Denai Moore croons about infidelity on "The Light." The best track without a doubt on "Wonder Where We Land" is "Voices in My Head," featuring the incomparable A$AP Ferg. It's a heady, vaporous song about a wild night out and Ferg's lyricism is entirely on point as the song violently careens from boisterous hip-hop into somber Gil-Scot Heron-esque spoken word poetry.
"Wonder Where We Land" is a fantastic electronic album and it could be described as eminently danceable. The thing to remember about SBTRKT is he doesn't make "EDM." It isn't about waiting for that sick drop or breakdown. It's about a total aesthetic or just a feeling that the music is trying to confer to the listener. People going into this expecting festival bangers or trap anthems are going to be sorely disappointed. Patient fans and newcomers alike to electronic music will find "Wonder Where We Land" to be a sublime wonder.