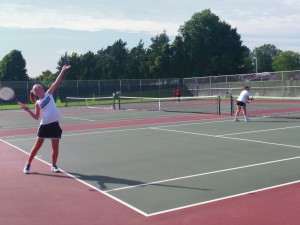 The Oswego State women's tennis (1-2) team earned its first win of the 2014-2015 season Friday over the Wells College Express (0-2) at the Romney Tennis Courts, 8-1.
The Lakers picked up the victory after dropping their first two matches to SUNY Geneseo and SUNY New Paltz, each by a score of 9-0. While the start was trying, head coach Erin Skaradek touched on how playing those two teams prepared the Lakers for this match.
"We get a taste of what its like to play the top two teams in the conference, and they certainly prepare us for the rest of the way out," Skaradek said "There's no one else this season, in the fall at least, that's as talented as those two teams."
In doubles, Oswego State got off to a solid start. First doubles team senior Lauren Stall and junior Alicia Kreamer won their match over Wells's Brooke Benedetto and Kamarie Maturine, 6-1. The match had to be stopped at 6-1 due to an injury to Maturine.
Kreamer did not necessarily want to win in such a manner, but felt good getting her first win as a Laker under her belt.
"It was great. It's nice to finally be on the winning side," Kreamer said
Kreamer is playing in her first season with the Lakers as a junior transfer. She believes playing with Stall, a four-year member of the team, has been a big help to her transition, due to Stall's skill and experience.
"It's great. It's a good experience to play with Lauren. She is a great player," Kreamer said  "We definitely work well together. It's good she has showed me the ropes to the Laker life."
In the other doubles matches, the team of freshman Jill Travis and senior Haley Miller won over Wells's Laura Webb and Nicole Sanborn, 8-1, in second doubles. While, in the third doubles, seniors Olivia Knierman and Haley Miller lost to Wells's Danielle Bautista and Kevisha Hunt, 8-6.
The singles matches hit the court next. Stall defeated Benedetto (6-2, 6-3) at first singles. Oswego State picked up its fourth point as Kreamer beat the injured Maturine's by forfeit in the second singles spot. Junior Kelsey Wilson won at third singles over Webb (6-2, 6-0). Miller defeated Sanborn (6-1, 6-1) at fourth singles. Travis defeated Hunt (6-4, 6-2) at fifth singles and Halpin defeated Bautista (6-3, 6-1) at sixth singles.
Though Oswego State put out the same starting lineup in each of its first three matches, Skaradek remains open to the possibility of changes being made.
"We may look to do things a little bit different next Sunday," Skaradek said. "We got a full week of practice straight ahead. It's an opportunity for us to get back to drill work, but also an opportunity for people who aren't currently in the lineup to challenge some other folks. That's the best part about having a nice big roster."
Even with all the positives the team can take away from this win. Skaradek knows there are some things the Lakers can do to improve, if they want to be successful this season and reach their potential going forward.
"There's some things we have to work on. If you watched our footwork, it's a little lazy at times. We can't bring that effort against the teams we face here on out," Skaradek said. "To us, it's important we place either third or second in the SUNYAC West division. We need to make sure we're bringing a better effort and make sure we're not giving an 85 percent effort, but a 100 percent effort."
"I was very proud of how some people played, but I think we need to continue to keep working and holding ourselves higher to expectations from here on out," Skaradek said.
The Lakers' next match is Sept. 14 at Daemen College starting at noon, before returning home and resuming SUNYAC play against SUNY Cortland on Sept. 18 at 4 p.m.