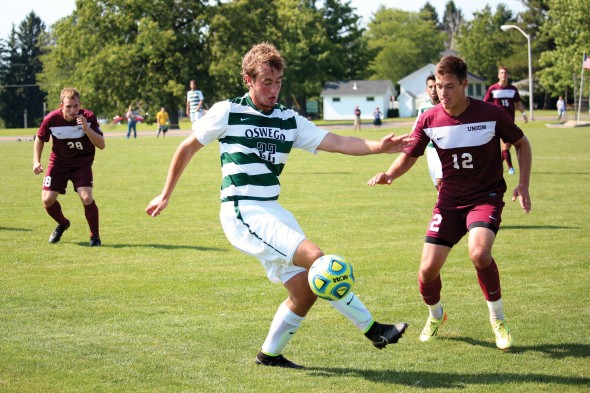 After a winless 2013 season, the Oswego State men's soccer team got off to a fresh start this past weekend. The Lakers kicked off the Oswego State Men's Soccer Classic with a 2-1 victory over Cazenovia College on Friday, their first win since Oct. 12, 2012 against Geneseo.
Although the Lakers fell on Saturday to Union in the championship game of the tournament, the team as a whole look ready to put its disappointing 2013 season in the rearview.
"Obviously it's early in the season, but if we continue on the path we're on, I think we'll surprise some people," said Greg Rabideau, senior midfielder.
The Lakers were dominant throughout the weekend on both ends of the field, outshooting their opponents 34-15. Oswego State's strong defense, led by senior Eric Widanka and graduate student Eddie Silvestro, helped hold the opposition to a mere six shots on goal.
"Starting off this season with a win was a great way for our team to come together more as a group," said Todd Lawson, junior goalkeeper. "It just builds up team confidence before we get started with our conference games next month."
This season, the Lakers have nine matchups against fellow SUNYAC teams, four coming at home and five on the road. They will take on Oneonta, New Paltz, Potsdam, Fredonia, Buffalo State, Geneseo, Brockport, Cortland and defending champions Plattsburgh.
After being outscored 32-11 last season, it will be interesting to see how the Lakers go about turning the page this year.
"We're trying our best to push our program to where we know it can be," Lawson said. "We'll accomplish our goals if we stay united as a group and keep working hard."
Head coach Bob Friske will need big contributions from some younger players, as the team's top five scorers from last season all were lost to graduation.
"I think we're off to a great start," Rabideau said. "All 27 guys are focused and putting their best effort out each day."
Offensively, it was a trio of sophomores who opened eyes during last weekend's tournament. Harrison Rieber scored two goals and was named to the All-Tournament team, while Brody Magro had an assist and the game-winning goal against Cazenovia. Mitch Brickman was also impressive in both matches and tallied an assist of his own in the Laker victory.
"The younger players saw enough field time last year to become comfortable with the level of play in the SUNYAC," Widanka said. "So far we've seen some great advancements in the technical and mental aspects of our younger group."
The Lakers have 15 games remaining on their schedule, eight of which are home games at Laker Field. They will look to make a splash in their conference as they battle to make their first SUNYAC playoff appearance since 2006.
"As an absolute minimum, we expect to make it into the playoffs," Widanka said. "As for our pinnacle goal, winning the SUNYAC championship and entering the NCAA tournament is what we are fighting for."
Oswego State's next game is Wednesday, Sept. 10 at 4 p.m. as it hosts Hamilton College at Laker Field.