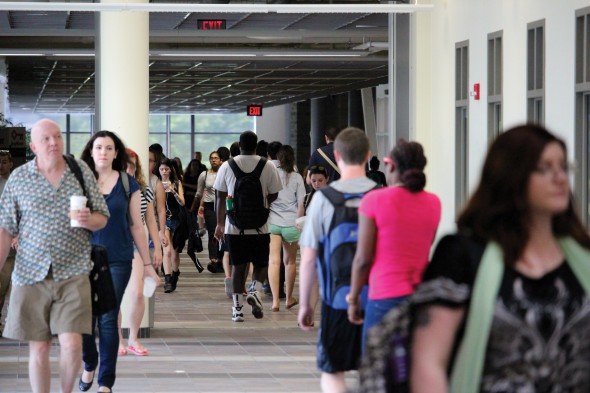 For the second consecutive year, a large number of freshmen are attending Oswego State. The 1,420 students that make up the freshman class is the second biggest freshman class since 2008, according to data from the Office of Institutional Research and Assessment. After last year's unusually high amount of 1,506, the administration at Oswego State declares these numbers are closer to normal.
"If you look back through the years there are always ups and downs," said Dan Griffin, interim director of admissions. "We set our admission criteria in November, and most offers are made by February, but we don't know the yield, the percent of admits who take us up on our offer, until May 1. Our acceptance rate has stayed right around 48 percent."
There has been some concern that two large lower classman classes, along with other returning students and the planned renovation of Waterbury Hall this winter, is causing an overflow of the college's residence halls. According to the Office of Public Affairs, 1,872 new students, 2,390 returning students, 140 resident assistants and about 100 first-semester-only international students moved into residence halls and the Village complex for the start of the fall semester. When classes began, there were 87 rooms with triple occupancy on campus. This includes lounges housing three or four students each. In addition, there are currently 130 filled rooms at Waterbury.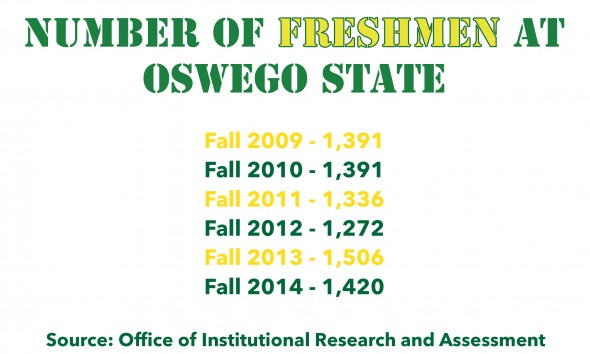 "Having 50 or so triples is not unusual," said Richard Kolenda, associate dean of students for Residence Life and Housing. "What we do is put people in lounges. However, if you take a look at Seneca or Oneida, the lounges are the same size as two bedrooms. Square footage wise, each student has the same square footage as they would in a regular double room without the wall separating the two rooms. In Cayuga, there are three in a room. The rooms are a little bit smaller than two rooms, but square footage wise it's the same or bigger than the square footage you would have in a double room, it's just that you get three or four people, and they get the same furniture that everybody else gets, and so it's comparable to a double room."
Kolenda said it is normal for triples to gradually decrease in number as the semester progresses.
Allison Thayer, the hall director of Funnelle Hall, said that Funnelle started the semester out with eight triples in the building and is now down to three, in a building that houses 400 students comfortably two to a room.
"It's hard to say if it's a 'usual' amount of triples because we need to base it on the number of students on campus," Thayer said. "For instance, I know that Cortland had something like 150 triples, same with Brockport. I'm not sure of the exact number we had across campus. However, I do know that the hall directors have been working to make sure students who do not want to be in triples are relocated as space becomes available.  So I'm not sure what's going on with college acceptance and the increase of students and housing, but it's safe to say that it's not just Oswego."
Freshman Drazen Schrecengost lives in a triple room in Funnelle and said despite its unappealing sound, he has been able to adjust and enjoy the extra company.
"We were all pretty nervous about having a triple, all of us being freshmen and having no experience to college life," Schrecengost said. "Once we were moved in, however, there was still a significant amount of floor space left available and we were not cramped like we thought we would be. Our room consists of one bunk bed, one personal desk, and one lofted bed, beneath which is a super-desk shared by two people. We all have one dresser with two large-sized drawers and one of my roommates and myself both brought a mini refrigerator. I share a closet with the roommate bunked above me, as I claimed the bottom bunk, and the roommate who claimed the lofted bed has a closet to himself. We frequently bring our friends back into the room to hang out and having enough space is never an issue."
Schrecengost added that an opportunity actually arose where one of the triple occupants could move to a double with an open spot on the same floor, but each one turned it down and decided to stick with the triple.
Kolenda said it's also possible that less upper classmen are moving off campus and staying in the residence halls.
"Even though they're a junior or senior, students like living on campus," he said. "There's a lot of activities that happen that goes on in the residence halls, they've got programs that go on, and support services, you can be with a bunch of friends. It is a good atmosphere for people to live and learn in and experience college better because you're more involved in your college experience."
In terms of Waterbury Hall going offline in December, Kolenda said a lot of the building's current 160 occupants are one-semester students.
"They're either graduating, or we have some international students who are only going to be here one semester. They're on exchange so they're going to be leaving anyway," Kolenda said. "Yes, we're going to have to move some people, and they all know that they're going to have to move in December. They will fill the spaces where people are vacating, because we're going to have probably 80 graduating seniors on campus. We have a number of student teachers that are going to be leaving and we have a number of people studying abroad. So, we'll take those students from Waterbury and fill those spaces."
In regards to housing accepting students for next year's freshman class and Waterbury renovations, Kolenda said, "We should be able to accommodate everybody."