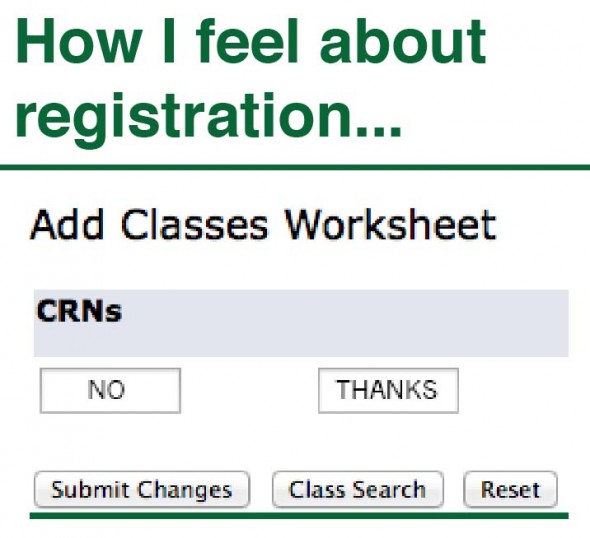 It's that time of the semester when everyone starts to stress out about what classes to take for next semester. Plenty of people have panic attacks, some people cry on the floor with confusion and others freak out until they get what they need. But have no fear—there are plenty of ways to not stress out about it.
One way to not stress out about it is to take your time figuring out what classes you need to take. Look at the classes that are listed for next semester at least once a day. Make sure you look at your Degree Works and see what classes you need to take. Then make a list of all the classes that you need and see if they're being offered this semester. Don't worry if they're not listed for the fall, as there is always the spring semester. But make sure you're keeping track of all your classes. You should also be writing down the times and the CRN number. This will help you to make your schedule easier and quicker.
Another way is to make as many different possible schedules as you can. As you go up in years, there will be more classes to choose from so making more schedules will be a lot easier. Don't be afraid to say "no" to a time slot if you really don't want it. If you can't get up at 8 a.m. no one is going to penalize you for it, especially if there is a later time. There will also be different time slots for the class during the next semester.
Your adviser is also a great resource because they know how your program works and what you need to graduate with. At this point, your adviser should at least know you well enough to tell you what courses you need to take and give you some advice on what courses you will enjoy. If you don't know your adviser well, but you have a professor that you are comfortable with, you're always able to go and talk to them. There isn't a professor or adviser that will turn down a student at this school. Don't be afraid to ask for help from anyone.
The most important thing to remember is that people do drop out or transfer during the summer. If you don't get the class you want right away, you can always keep an eye on it over the summer. A lot of people claim this doesn't happen, but in reality, there are people who don't do as well as they'd thought or transferred to a different school at the last second, leaving an open spot just for you. So don't stress over not getting into that class you really wanted right away. You have all summer to keep checking.
I understand that this is a very stressful time of the semester, especially with room changes that are right around the corner, but it doesn't have to be stressful. If you just relax, take your time with your schedule, ask for help and make as many schedules as you possibly can, you'll be fine. Don't forget to check over the break to see if there is a class you really wanted that is open. You don't have freak out. You can always overload with the permission of your professor and you can always take a summer or winter course.
Scheduling should be the most exciting time of the year because you get to choose the next classes you will be taking. It's one more semester closer to graduating and one more semester of learning more things you'll need for your future. Don't stress it, embrace it and enjoy scheduling.