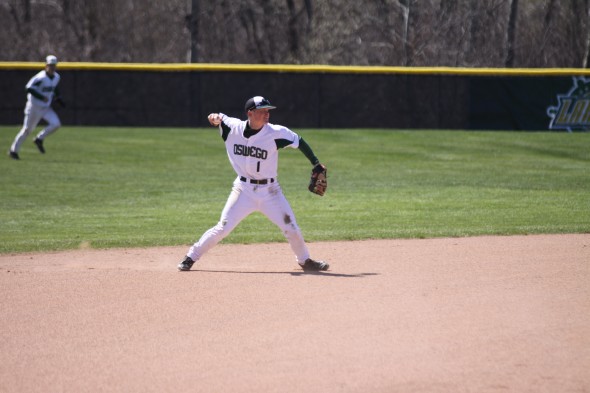 The Oswego State baseball team opened the 2014 season with the bar set high after its recent success during the 2013 season.
Head coach Scott Landers' squad set a new program record in wins last year, going 27-15 while finishing third in the SUNYAC standings. The Lakers went on to make their first SUNYAC championship game appearance since 2001, before falling to nationally-ranked SUNY Cortland and taking second place.
Scott Buniak, Dan Erne and Brian Hamilton were each named to First Team All-SUNYAC while Mike McMullen was named Second Team All-SUNYAC. Buniak and McMullen, who both returned to the team for the 2014 season, were key components for the Lakers' offense last year, hitting .379 and .317, respectively.
Oswego State has transitioned smoothly into the 2014 season thus far, continuing its success on the field. The Lakers are currently sporting a 9-4 record (1-2 SUNYAC), which is good for third place in the conference. As a team, Oswego State is currently hitting .309, ranking it third in the conference.
"We have a lot of returning players and they know what our assistant coaches and I expect and the younger guys have kind of followed their lead," Landers said.
Beginning their season in Dover, Del. earlier this month, the Lakers split a doubleheader with Wesley College before beating New Jersey City University, 4-2. The team then traveled to Florida for the Russmatt Central Florida Invitational over spring break.
The trip was a successful one, as the Lakers went 7-3, recording wins over Franklin and Marshall College, Babson College, Amherst College, Allegheny College, The College at Brockport and UMass-Dartmouth. Highlighted by two shutout wins, a four-run ninth inning comeback against Babson and a five-run ninth inning against Dartmouth, the Lakers will look to continue their success as the season continues up north.
[su_quote cite="Head coach Scott Landers"]We have a lot of returning players and they know what our assistant coaches and I expect, and the younger guys have kind of followed their lead.[/su_quote]
This week's Oswego State Athlete of the Week, freshman Eric Hamilton, has enjoyed a great start to his season, both offensively and defensively. After going 8-for-20 with five RBIs and six runs scored this past week in Florida, the Liverpool native is now hitting .429 on the year, good for third in the SUNYAC. On the defensive end, Hamilton has played third base, second base and catcher this season while committing only one error.
"For me, I don't really care if they're seniors or freshmen. I think we have a group of guys that can all contribute in one way or another," Landers said. "A couple of these younger guys have gotten their shot and they've run with it and that's a good thing for us right now and moving forward."
On the mound, the Lakers have been led by sophomore Miles Kelly, who has won all four of his starts this season while sporting a 1.64 ERA, which is third in the SUNYAC. So far, the Oswego State starting rotation has performed well, receiving quality starts from Ryan Brinkman, Brendyn Karinchak and Jordan Giller.
Overall, the Lakers' pitching staff has allowed the second fewest runs and walks in the SUNYAC.
Senior outfielder Scott Buniak, who has been a starter for the Lakers since 2011, is off to a strong start this season. The Clifton Park native is batting .381 with a team-leading 16 hits, nine runs scored and a SUNYAC-leading ten stolen bases, having yet to be thrown out on the basepaths.
This season, Buniak has the chance to enter the top-five in school history in several statistical categories, including hits, runs and stolen bases.
Transfer outfielder Dan Saccocio is off to a hot start to his Laker career, hitting .316 with seven stolen bases and a team-leading 12 runs scored. Senior shortstop Mike McMullen has found early success with the bat as well, leading the Lakers with 12 runs batted in.
As a team, the Lakers have been extremely efficient offensively, ranking second in the SUNYAC in on-base percentage while striking out less than any other team in the league.
"I think we have a lot of potential. We've played OK until this point; I don't think we've played great," Landers said. "I don't think we've played near what we're capable of. It's still early and by the end of the year I think we're going to be a totally different team."
Looking forward, the Lakers have 16 games remaining on their regular season schedule. Oswego State's first home stand was supposed to begin on Saturday when the Lakers were set host Clarkson University in a doubleheader. However, the games were postponed. The home stretch lasts until April 9, with the Lakers hosting a total of five teams in eight games, including four in-conference matchups with SUNY Cortland and SUNY New Paltz.
The Lakers then play 10 consecutive road games, including trips to SUNY Oneonta, Cortland and SUNY Fredonia, before coming back to Laker Baseball Field where they will host Ithaca College, SUNY Plattsburgh and RIT to end the regular season.