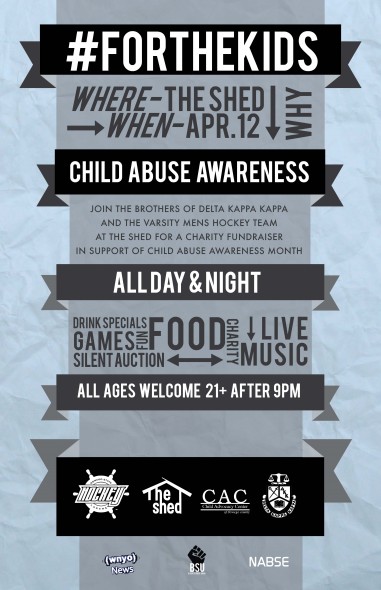 April is child abuse awareness month and two juniors at Oswego State are bringing their two campus organizations together to help benefit the campaign to end abuse.
Denvol Haye, the president of Delta Kappa Kappa, and Eli Kim-Swallow of the Oswego State men's ice hockey team have organized an event on April 12 at The Shed to help raise money for the local non-profit organization, the Child Advocacy Center of Oswego County.
The CAC is a non-profit organization with a mission to provide "a safe, child-friendly site for the investigation, prosecution and treatment of child abuse," according to the organization's website. Melanie Proper is a licensed mental health counselor for the organization and has been working closely with the students in organizing the event.
"The Child Advocacy Center is part of a multidisciplinary team with the Oswego County District Attorney's Office, Oswego County Probation Department, Oswego County Department of Social Services, Oswego County Law Enforcement (Oswego County Sheriff's Department, New York State Police, Oswego Police Department and Fulton Police Department) and our nurse who completes the forensic medical exams," Proper said in an email.
According to the 2012 Child Mistreatment report from the U.S. Department of Health and Human Services, 68,375 children were victims of abuse in New York in 2012 alone.
"The intent of what we wanted to do was there before we ever had a class," Kim-Swallow said. "It was something that came out of a genuine wanting to help people in the community. Because it snowballed into a class, that pressure of having it academically now as well only makes it more successful."
[su_quote cite="Eli Kim-Swallow, junior at Oswego State"]It was something that came out of a genuine wanting to help people in the community. Because it snowballed into a class, that pressure of having it academically now as well only makes it more successful."[/su_quote]
Haye and Kim-Swallow went through a list provided by United Way. Haye said that the CAC stood out to him so he began looking more into the organization, which is when he really noticed the commitment of its members.
"These people are doing such a great thing," Haye said. "It comes from the bottom of their hearts, it's really inspiring that people do this and they don't ask for anything in return."
Proper said that her involvement with the creation of the event came about because she picked up the phone.
"I was fortunate enough to be the one who answered the phone when Eli and Denvol called the CAC to pitch the idea of their fundraiser," Proper said. "Upon meeting with them, it seemed well thought-out and they were very professional and passionate. Their energy motivated me to jump on board."
Proper said that all of the services of the CAC are offered free to the child victims of abuse and their families. She said that the CAC is there for the victims right from the start.
"The CAC is a site where child-friendly forensic interviews can be conducted by law enforcement and DSS, forensic medical exams are completed on site by our nurse (Cheryl Martin-Schroeder.) Victims advocates provide support and assistance to the family with the case and a licensed mental health staff providing individual and family counseling."
The event will run from 3.p.m until The Shed closes, although those wishing to attend after 9 p.m. will need to be 21 or older. A percentage of the bar sales will go for a contribution from The Shed, according to Kim-Swallow. There will be a $3 minimum donation as a cover charge and that money will go entirely to the CAC. An all-day barbecue will also send all proceeds to the local organization. A silent auction will also be held.
Proper said that the money will be put to good use within the organization.
"The money will be put directly into providing services and programs to the children and families at the CAC. Our services are funded through several grants and contracts," Proper said. "Donations, such as this fundraiser, are used to provide additional psycho-educational and therapeutic groups and activities. Because the services we provide are free, that means that families can receive high quality services and evidence-based therapeutic treatment without worrying whether or not they can afford it."
The two chose to hold the event at The Shed because of the close businesses ties to Laker hockey. They also want anyone to feel comfortable coming in, and The Shed allows them to target a larger demographic.
"Having it in a venue that we feel is friendly for any demographic, you can have the local community come in, you can have Greek life, athletes there when other places that are still reputable like the downtown situation, it's not as friendly to maybe an overall demographic that we're trying to target," Kim-Swallow said. "It's not specifically 20-25 year old guys, it's between any age, any gender, it's just relaxed."
Haye said he hopes this generates awareness for child abuse prevention in years to come.
"Even if you just see this thing and just in the back of your head you remember 'OK every April it's child abuse prevention month' that would be a big step, just raising awareness about it," Haye said.