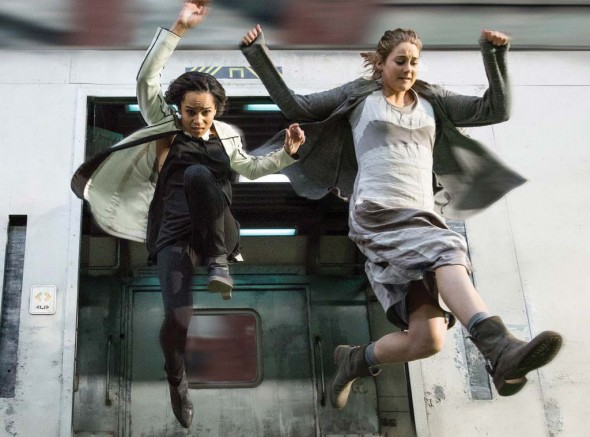 On Friday "Divergent" became the latest film to be released in an increasingly larger influx of adaptations of young adult novels. Following the likes of films like "Twilight" and "The Hunger Games," "Divergent" has high expectations.
Like "The Hunger Games," "Divergent" is set in a post-apocalyptic world. "Divergent" takes place in a society built from the rubble of Chicago. The civilians of "Divergent" are divided into five factions based on defining virtues.
The lead of the film is Shailene Woodley ("The Descendants") who plays Tris. Trouble brews when Tris receives faction assessment results that prove inconclusive. From there, she leaves her family to join the brave faction, Dauntless. Once a member, Tris begins to fall in love with fellow Dauntless member Four, played by Theo James ("Underworld: Awakening"). As tensions begin to increase among the five factions, Tris and Four are placed in danger.
Other characters include Jeanine Matthews, played by Kate Winslet ("Labor Day"). Jeanine is the lead antagonist and head of the plot to overthrow the current faction, Abnegation, from power. Miles Teller ("The Spectacular Now") plays a minor antagonist role and Tris's closest friend is played by Zoë Kravitz ("X Men: First Class").
Overall, "Divergent" was not a terrible film. And, while the drawing of comparisons to other similar young adult adaptations is likely to happen, viewers will be pleased to find a movie with terrific acting across-the-board, solid special effects and moments of true originality and creativity.
Woodley fits well into the film's makeup. Her scenes are believable, relatable and are able to evoke true emotion from audiences. Viewers will surely flock around her courageous character as they root her on through her Dauntless training and other ventures.
But no actor or actress holds a candle to the amazing performance put forth by Winslet. By far the strongest performance in the film, Winslet brings forth a brilliantly deceptive villainess. She is perfect in the role as the regulatory leader of an opposing faction.
Other strengths of the film include the romantic relationship between Four and Tris. Their relationship is interesting to watch unfold and, unlike sappy films like "Twilight" where the man is constantly the dominant force, it is a pleasant change to see a budding relationship in which both characters are on equal playing fields. In fact, in some moments, Tris is actually Four's savior. However, the downfalls of this and other films like it, is that they feel as though they even need the romance at all. There is enough drama, adventure, and action in "Divergent" so the  love story seems overplayed and unnecessary.
There are also positive moments to be found in the impressive graphics which create a distinguished atmosphere for "Divergent" to thrive. Part of this could be due to the film actually being shot in Chicago, where it takes place. There are also moments where Tris' dreams are visualized and these have amazing graphics as well.
In terms of the plot, viewers who were fans of the book series will surely find the film to be an appealing draw. However, it seems as though "Divergent" falls short with connecting those who have not read the books to the film. Plot holes seem to be missing and murky explanations for certain actions go unanswered in "Divergent." However, looking past this, the film creates a strong identity for itself in the first half. But, as the film closes in on its last half, it loses itself in sloppy filmmaking, barely managing to rescue itself from disaster in its final moments.
"Divergent" isn't the greatest film ever made. But, while it is not particularly meaningful or important to society, "Divergent" will provide an enjoyable time for fans of films like "The Hunger Games." At the very least, "Divergent" should be considered a slightly tarnished pop-culture gem. It has entered on the large wave of young adult adaptations of novels. But, while "Divergent" may stumble, it does eventually split apart from the mold.  It brings itself into a new light in an redeeming way for the subgenre of young adult films. With so many movies that have diminished book-to-film adaptations, like "Mortal Instruments" and "Twilight," "Divergent" is a breath of fresher, stale air.