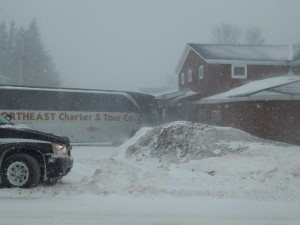 The men's ice hockey game against Bowdoin has been postponed tonight as the result of a winter storm causing white out conditions and will instead be played at 3 p.m. tomorrow.
The Northeast Charter and Tour Company bus rented by the Bowdoin team crashed into the awning of Canale's Restaurant on West Utica Street, where the team had stopped to eat.  The team was inside the restaurant when the bus slid into the front awning of the building.
Oswego City Police said no one was hurt.
According to the Oswego State Sports Information Department, there is "no correlation whatsoever" between the game's cancellation and the bus crash.
Oswego State has shut down the entire campus and employees have been sent home early.
Laker head coach Ed Gosek expressed his disappointment about the announcement, but understands the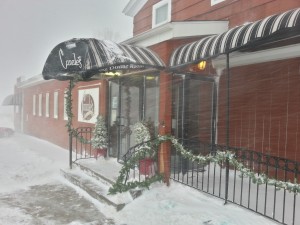 decision had to be made.
"What are you going to do? You can't control the weather. For our game and Geneseo's game, it's beyond anybody's control so, for the safety of everybody involved," Gosek said. "We'll get the guys mentally ready, it's equal for both teams, but what are you going to do? First, we have to get them out of Canale's and back to their hotel."
Members of the Oswego State team realize the situation is out of their control and they must do their best to stay mentally prepared.
"Just forget about it I guess. No sense in dwelling on it; the weather's bad. Just make sure guys get their rest tonight and come back ready to go tomorrow morning," said Nick Rivait, Oswego State assistant captain. "[We] just have to come back focused tomorrow."
"Same mind set going into tomorrow; you have to be ready to go. It's a little bit of adversity, but both teams have to go through it. We have to be prepared like we were for tonight," said Matt Zawadzki, Laker goalie.
"I don't think it changes my routine any. I'm going to have the same mind set going into tomorrow. Just have to help the team get a win," Zawadzki said.
One of the other opening round games to be played this evening at SUNY Geneseo between the Knights and Nichols College has been postponed as well. That game will take place tomorrow at 5 p.m.
There is still no word on whether or not the postponement of tonight's game in Oswego will impact the scheduling for the winner's quarterfinal matchup at Babson.
Oswego County is currently under a blizzard warning from the National Weather Service until 8 a.m. Thursday. The NWS expects an additional 7 to 10 inches of snow accumulation pushing totals to 14 to 18 inches. Wind speeds are expected to reach 20 to 30 mph and gusts up to 50 mph. They have also warned that visibility will be close to zero at times. The NWS warns anyone who needs to travel do so with a winter survival kit and to not travel unless absolutely necessary.