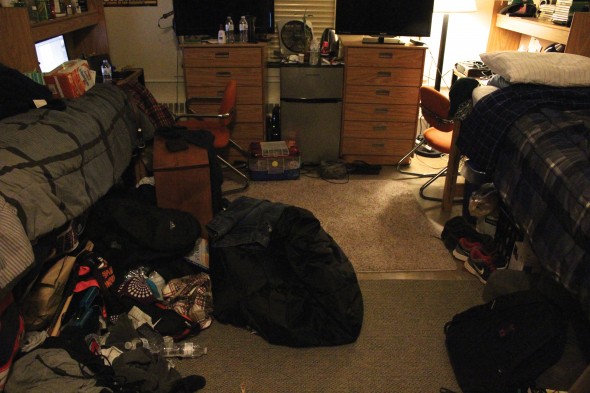 It's that time of year when students and professors realize two universal college events are occurring: midterms and spring break. However, there is a third major event occurring at the same time that often gets put on the back burner: on-campus room selection.
While you may love the residence hall you're in, the most important thing to keep in mind is your roommate. Most people tend to have one of three feelings toward their roommate: I like them, I don't like them, and they're all right. It is not always a two-way street, because they may not feel the same way about you, for better or worse.
For those who love their roommate, keep doing what you're doing and maybe ask to room with them again for the fall semester in the same residence hall, or maybe even expand your living experience to another location                            on campus.
If you both love the room you are in, then something like a game of rock-paper-scissors or a coin flip might have to determine who gets to keep the room. In the event something like that happens, make sure there is an authority figure present such as a resident assistant or even the hall director.
If there seems to be tension with your roommate, talk to your RA. As simple as this sounds, it seems to be forgotten when there seems to be an issue between both parties. On a similar note, take advantage of the roommate contract that most people fill out in about 30 seconds. Addressing issues early in the semester can help avoid conflicts over small things such as when to listen to music. Review the contract after spring break so there can be time to fix any issues before the stress of April and May kick in.
There are also instances of one roommate disliking the other, but the other person is oblivious. Avoiding this is very simple: whenever they do something you do not like, just tell them. You can also offer a solution or suggestion instead of just scolding them for something that can be fixed in an instant. There may be times when situations are unavoidable, so just stay out of the room if possible. Meet up with friends in their hall or do homework somewhere else. These all seem like obvious solutions but sometimes we just forget to do them.
As for the scenario where you are indifferent with your roommate, the obvious first step is to ask them what their plans are for next semester, even if you've decided where to go or have your top choice. Maybe they want to go somewhere else on campus, or even off campus. Just make sure you address issues before you decide to move to a new residence hall. It can't be helped if they have already decided to go to a specific location and just end the roommate relationship on a good note.
Regardless of what happens, make sure there is communication on both ends and who knows, you may end up getting your number one option. If your roommate leaves the room early in the semester for whatever reason, enjoy the free time until you get a one and give that random roommate a chance.