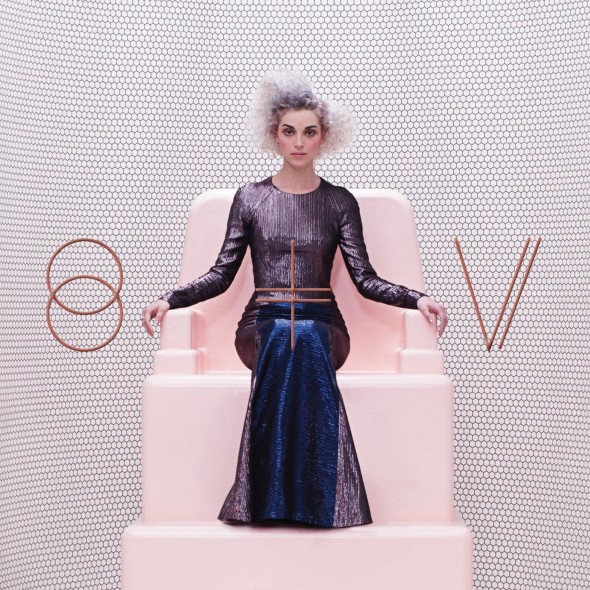 Annie Clark began as an unknown singer-songwriter upon the release of her debut solo album, "Marry Me." Better known by her stage name, St. Vincent, Clark could never have dreamed of the cult following she gained over the course of the next eight years, when she would go on to release four more albums in addition to four extended plays.
Her most recent venture, the self-titled "St. Vincent," will surely continue to propel the artist indie pop stardom. Limiting herself from the mainstream, Clark seems to have found her niche and has stuck with it. Similar to previous compilations, "St. Vincent" sticks the 31-year-old on an unshared pillar.
The lead single of the album is "Birth In Reverse." With the greatest potential of crossover success, "Birth In Reverse" plays the role of pleasing more mainstream audiences as well. The song is upbeat, but does not stray too far from Clark's distinct style. "Birth In Reverse" is filled with futuristic guitar strumming and techno-covered vocals that will make anyone want to hop on a table and dance, similar to what "The Breakfast Club" cast would dance to in the library if it was set in the year 3000.
The next track deserving of distinction is "Prince Johnny." Dreary vocals and slow moving beats turn this track into a beautiful ballad. Showcasing Clark's vocal capacity and range, "Prince Johnny" allows her singing to overcome the beats. In comparison, the track is more on par with fellow indie-pop singer Lana Del Rey. While the track shares these similarities, it is also surprisingly original.
"Bring Me Your Loves" is another track that stands out on "St. Vincent." It's an angsty, visceral, electronic-rock song, incomparable to anything else.
The album's second single comes in the form of "Digital Witness," perhaps the funkiest song on "St. Vincent." With pulsating, trumpet-sounding instrumentals, "Digital Witness" sounds like a futuristic version of a classic funk song. Along with its funky sound, "Digital Witness" also acts as a critique on the current everyone-must-know-everything social media craze.
Rounding out the album's strongest tracks is, ironically, its final song. Titled, "Severed Crossed Fingers," this track leisurely wraps up "St. Vincent."  With blends of sweetness and simplicity, "Severed Crossed Fingers" is a welcome and concluding change to "St. Vincent" and its otherwise rambunctious feeling.
Filled with funky guitar rhythms and beats, "St. Vincent" and its particular sound will captivate the audience it is catered to. By staying true to her sound, Clark may have excluded herself from mainstream radio, but fans will be thrilled to hear the uniqueness and originality that comes with "St. Vincent."