Boasting in the A$AP Rocky track "Brand New Guy" that he was equal parts Biggie and Nas with a sprinkling of 50 Cent, West Coast rapper Schoolboy Q has a flair for the dramatic. Label mates on Top Dawg Entertainment with breakout superstar Kendrick Lamar, Schoolboy Q, aka Quincy Matthew Hanley, is known for his trademark bucket hats and edgier sound, reminiscent of his forebears in the gangsta rap scene. He recently put out his biggest release yet, the highly anticipated "Oxymoron." With hit singles "Collard Greens," featuring Lamar, and "Man of the Year" teasing "Oxymoron", many expected this album to be the second coming of West Coast gangsta rap.
The expectations aren't completely unfounded. "Oxymoron" has a much more rough and understated sound in contrast to his previous album "Habits and Contradictions," which is more in tune sonically with Lamar's "good kid, m.A.A.d city." Nevertheless, Schoolboy Q shares his vivid experiences as a not-so-good kid in a just-as-mad city with bravado and a vocabulary that would give most parents a nightmare.
Q is out to prove he can stand on his own and make a solid solo record, but that doesn't mean he isn't willing to defer to his collaborators and let them shine. Some tracks undeniably work like the Aquemini-esque "Grooveline Pt. 2" and "Blind Threats," with Raekwon of Wu-Tang Clan throwing his culinary expertise into the ring.
"What They Want," featuring 2 Chainz, is a good song with an absolutely awful hook. "Studio," with BJ the Chicago Kid, is the album's most imminently danceable and whip-bumping friendly track on an album that probably won't get much play in clubs or on Top 40 stations.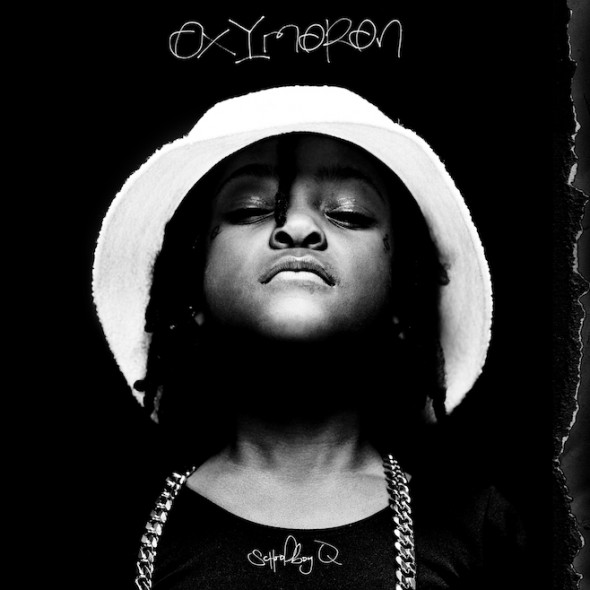 Other tracks on "Oxymoron" with big-name collaborators surprisingly fall flat. Tyler the Creator-produced "The Purge" comes off as lazed, uninspired and a wrong fit for Schoolboy's highly kinetic style of lyricism. "His and Her Friend" is a song almost impossible to enjoy while sober. "Los Awesome," produced by Pharrell Williams, of all people, is probably the worst beat on this album. Q and Top Dawg label mate Jay Rock are inundated with superfluous layers of synths, drums, and other pointless noises to the point where it is impossible to appreciate the muffled lyrics.
There are some bright spots in the gloom and doom soundscape that Q provides us with. Down-tuned, introspective tracks like the opener "Gangsta" and "Hoover Street" display some of Schoolboy Q's most evocative imagery and creativity in the cadence of his speech. The aforementioned "Collard Greens," "Man of the Year," and "Hell of a Night" are the strongest tracks on the album and prime examples of the top-notch production that can get behind a dedicated and passionate artist like Schoolboy Q.
"Oxymoron," for all of its faults and finer points, will inevitably be compared to Lamar's "good kid, m.A.A.d city" when it shouldn't. They are both solemn, honest retrospectives about both individual's upbringings in South Central, but that is where the similarities between the albums end. Lamar and Q often collaborate as two parts of the hip-hop supergroup Black Hippy, but people often forget that Q has never tried to be anything but an honest gangsta rapper. Schoolboy Q's presence on "Oxymoron" is earnest, confident, and unrelenting. He's not here to give us another Top 40 single for the radio or win Grammy committees over with a marketable gimmick. He's here to push himself and gangsta rap into the mainstream without compromising his style for anyone. And it looks like 2014 might be the year that Schoolboy Q can do just that.