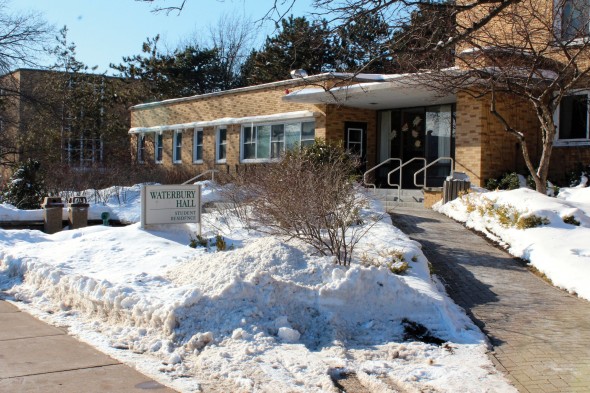 Built in 1957, Waterbury hall is one of the oldest resident halls on campus, and as of the 2015 spring semester,  will be in the process of reconstruction.
With the plan to eventually renovate all of the resident halls, Waterbury, Scales and Funelle halls will be under construction within the next four years, with Waterbury being the first to undergo a transformation. These renovations will begin at the end of the 2014 fall semester and continue in the spring semester and into the summer of 2015.
"For being an old building it is pretty good. Our maintenance staff is awesome," said Kevin Speer, Waterbury Hall director. "They are really meticulous about keeping the building nice, especially for an older building like this. But I think just in general, because it is so old they are planning to give it more of a modern feel like Riggs and Johnson have."
This process was started by a plan to renovate all residence halls off of the money that has been saved by Resident Life and Housing over the past few years and a bond from the Dormitory Authority State of New York every thirty years. With this money, Waterbury Hall is budgeted to spend about $7 million to $8 million on next year's constructions.
With this budget, there are plans to reinvent the appearance, versatility and facilities of Waterbury. Currently on the floors in Waterbury, there is no common space, with only one community space on the first floor upon entering the building.
"I kind of like that because that uniqueness has caused residents to come down to the lobby and main lounge to hang out," said Speer. "It has created such an awesome community feel because of that."
These renovations include making Waterbury handicap accessible, including a ramp on entry, an elevator, a wider 36-inch room doorway and modifications of the bathrooms to fit a wheelchair. Other additions include redoing the ceilings, taking care of the HPAC units, upgrading the plumbing and redesigning the desk setups. Waterbury will also have lounges on all floors to provide group and individual study space.
As of now, another project in the works along with Waterbury's renovations is to include a connector between Scales and Waterbury Hall to put an activities lounge in between the two buildings. The appearance of the building will still be maintained. Although it might resemble the look of Johnson and Riggs with the ramp entry. The bricks are not being replaced, but will be polished and updated. There is a landscape architect that is another person responsible and associated with this project for its newest appeal.
"The architects are still working on the design because the design has not been completed yet," Richard Kolenda, Assistant Vice President of Resident Life and Housing said. "They put up concept and constantly rework it and see how much money it will cost and so some things are left in, some things are taken out, and some things are added. So we are still in the stage of the development of the design. We probably won't have a final design until June."
Because the three residence halls are being renovated with this budget, Scales and Waterbury are not being reconstructed with central air conditioning. The buildings are mostly vacant during the peak of the summer months. Using the expense central air conditioning would require, there are plans to create something that can be used year round rather than just the first few weeks of the fall semesters.  Because Funelle houses more people and events during the hot summer months, as of now, central air conditioning is being included in their budget to renovate that building.
"I have challenged the architects by asking 'what will students need in the year 2020? What kind of communication are they going to need? What kind of facilities are they going to need? What kind of gathering spaces are they going to need?' and it is part of their job to do the research and so there is thought put in. We have to provide a living experience that students want to be part of and live in that looks nice and meets their needs for years to come. Creating spaces that are flexible and have multi-uses to get the most out of the design," Kolenda said.
Certain plans for renovation are still being worked out, but as they plan for construction to start they are focusing on one building at a time. They are brainstorming ideas that will envision the future demands and function of the buildings 20 to 30 years from now.
These adjustments will hinder the usual living arrangements for the students that call Waterbury "home." They are planning on spring semester construction because typically the amount of students living on campus during the spring semesters are usually about 200 less than the amount of students living on campus during the fall semester. This is due to some students dropping out, studying abroad, or moving off campus. Waterbury will be able to be vacant during the period of spring construction due to the loss in residence campus wide. The ResLife staff plans on providing Waterbury students this semester with a higher priority lottery number when it comes to picking their dorms for next year. Students have the option to live in Waterbury next year, but they are encouraging students to live there if they are planning on staying in the hall for only the fall semester, whether they plan to then live off campus, graduate or study aboard. Otherwise, the students that plan to continue living on campus next spring will have to be placed in another hall on campus.