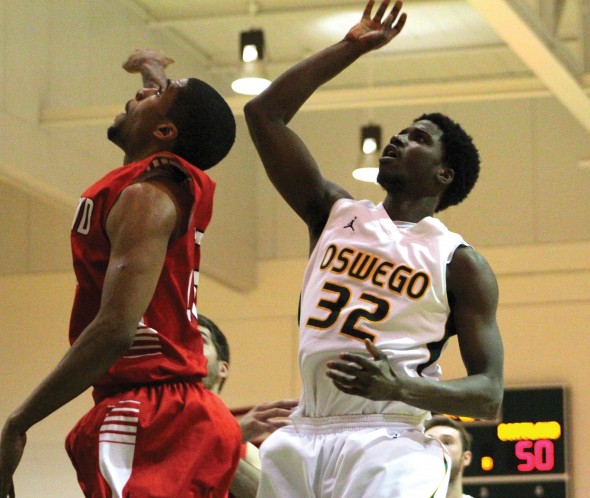 The air was electric inside Max Ziel Gymnasium on Tuesday night, as the fourth-seeded Oswego State men's basketball team knocked off No. 5 SUNY Cortland, defeating the Red Dragons, 69-57, in the SUNYAC championship play-in game.
The Lakers struggled a bit in the first half, shooting only 44 percent from the field.  This allowed Cortland to obtain an early advantage, leading 27-20 at one point.
Oswego State managed to fight back, gaining momentum from strong inside moves which led to foul shots.  Daniel Ross, Rashawn Powell and Walter Sampson each contributed three from the charity stripe.
Successful foul shooting and conversions on turnovers gave the Lakers a 34-33 lead going into halftime.  Cortland had six turnovers, while Oswego State coughed it up only three times.
Despite giving away the ball a bit too much, Cortland managed to shoot 56 percent from field in the first half, which ultimately kept the game close heading into the final 20 minutes.
The second half was a different story. The Lakers took complete control of the game, stopping Cortland in its tracks every time the Red Dragons gained the slightest bit of momentum.
Laker forward Keith Tyson blossomed in the second half, finishing with 15 points on 7-for-9 shooting with seven rebounds and an assist. This came after a two-point first half for Tyson, along with just two rebounds.
"My guys did a good job looking for me," Tyson said.  "I was just hustling, trying to get on the boards and trying to get second chance points. That's my big thing."
Oswego State head coach Jason Leone expressed admiration for the play of his forward, saying how his demeanor never changes.
"He's very even-keeled when he goes on the floor," Leone said.  "He doesn't get down on himself and when things are going well he plays the same way."
Ross had another outstanding performance, playing all 40 minutes for Oswego State.
Ross, the team's leading scorer in the regular season, finished with 24 points, going 8-for-14 from the field, a perfect 7-for-7 from the line, seven rebounds, five assists, four steals and one block.
Ross said there was nothing to attribute his strong play to, other than simply sticking to the game plan.
Laker forward Rashawn Powell put on a defensive spectacle despite going on 1-for-6 from the field and having just five points on the night.
"I thought Rashawn was the No. 1 reason we won," Leone said.  "He had a couple turnovers on offense, but without his defense we wouldn't have had an opportunity to win."
Powell's presence when covering Cortland's Kevin McMahon is what Leone was grateful for the most.  McMahon had 11 points in the first half, converting five of seven shots.
Powell held him to just four points in the second half. He finished the game with nine rebounds, one block and four steals.
The Lakers advance to face the No. 1 seed, The College at Brockport, in a road game on Friday.  The game is a rematch, as the two teams met just one week ago, when Oswego State pulled off a convincing upset over the nationally-ranked Golden Eagles.
In order to do it again, Leone said ball control and limiting easy baskets will be key.  That's not all it will take to defeat a nationally-ranked opponent twice in one season, however.
"Part of the thing when you play against Brockport is your attitude," Leone said. "Going in there, just playing with a little bit of a swagger, without being over-confident. We typically have done a good job of that, and I'm expecting our team to do that on Friday as well."
Daniel Ross is concerned about Brockport's pace heading into Friday, saying "they're 40 minutes of non-stop pressure," and that they are constantly hassling the Lakers' offense.
Tyson is prepared to bring more of his mental toughness to the game on Friday, saying it's going to be a mental battle as well as a defensive one.
The Lakers face off against the top-seeded Golden Eagles in Brockport on Friday at 8 p.m. in the SUNYAC semifinal game, with the winner advancing to the title game on Saturday.