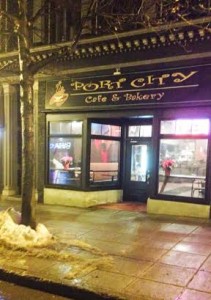 For me, a perfect night on the town involves going out and getting something to eat with friends. That is exactly why a few of my friends and I decided to brave the conditions of a dark rainy night to visit Port City Cafe & Bakery. We were not about to let a little rain ruin a potentially great dinner.
When we walked through the doors of Port City Cafe & Bakery, I was surprised to learn that not only was it attached to The Red Sun Fire Roasting Co., but that the two also share a kitchen.
Slightly confused, but mesmerized by our surroundings, we figured out that we had to walk up and order our food and then sit down and wait for it. Once we ordered our food and sat down I got the opportunity to look around and admire the set up.
Immediately, Port City Cafe & Bakery reminded me of a little sandwich and salad joint that I went to when I was in New York City. Looking around, the place gave me an urban-boho vibe. Port City has a brick wall on one side, with paintings and giant chalkboards with one that said "Cake on all occasions."
We sat on the side that has a work of art covering the wall, and there was indie music playing in the background, adding to the whole urban atmosphere of the room.
Typical cafe food can be found on the menu – soups, salads, paninis, and wraps. The prices are incredibly affordable; I did not see anything priced over $7. What I loved the most about Port City's menu was the names for the different entrees. One is the "Crazy Chicken," which is a cold sub with chicken, sun dried tomatoes, lettuce, balsamic dressing, provolone cheese, and onions. Another Is "Kristy's Craving," a panini with a portabello mushroom, provolone cheese, oven roasted mushrooms, garlic mayonnaise, and sun dried tomatoes.
Our food either got out fairly quickly or we passed so much time chatting that there was not one moment where we were questioning its whereabouts. Three of us ordered quesadillas, and another friend and I ordered paninis. I was floored by how good my panini was. I only say that because I forgot to ask for it without onions, tomatoes, and sauce. I ordered the "Cordon Blu," but did not taste the tomatoes (which was a good thing), and their specialty caper n' mustard mayonnaise sauce ended up being superb, going perfectly with the chicken, ham, lettuce, and swiss cheese. The two of us who ordered the paninis absolutely loved them, leaving nothing behind. Our friends who ordered the quesadillas described them as good, but not impressive.
We then collectively decided that dessert needed to happen. We looked over our options and all got something different. My roommate Emily got a chocolate cupcake with caramel dolloped on top, which she said had too much caramel on it. But once I tried a bite of it my love for caramel completely over shadowed that. My friend Kathleen got a cinnamon twist stick, which was "light, and not too rich." But, my favorite reaction was from my friend Leah, who got a cinnamon bun with cream cheese on top. She said "as you chew you just want to die because you know that nothing else will ever live up to these standards."  Her reaction pretty much sums up how I felt about that one bite of chocolate cupcake that I got my hands on.
Overall, our dinner at Port City Cafe & Bakery was a complete success, despite the rain. Port City Cafe & Bakery is located at 209 W 1st St. Go for a great meal or a sweet treat just to liven up your afternoon.