The ideal professor is a beacon of knowledge that has the answers to all of your questions. They take difficult concepts and break them down to be understandable. They prepare you for life after college.
Garrick Utley was the ideal professor.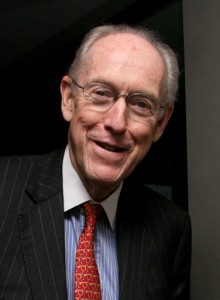 I'll never forget the first time that I met him. I walked into the classroom, more nervous than I have ever been to meet a professor. As I walked in the Culkin Hall classroom, Utley's six-foot-six frame stood up and towered over the rest of the room.  I expected to sit in my chair and wait for class to begin but instead he walked up to me, introduced himself and shook my hand.
Utley treated every student on campus with the utmost respect and as an equal.
Coming from what he would refer to as the gold years of broadcasting, he was the perfect professor to teach his signature class "Broadcast News: Its History and its Future."
Utley was born into the industry, his mother and father both broadcasters in Chicago. He started his career working overseas and became one of the first television war correspondents to report from Saigon during the Vietnam War.
Utley made a point to tell the story how it was and to take an unbiased view on the war.
He was a NBC mainstay in his many roles at the network. He was a foreign correspondent, hosted NBC Nightly News, moderated Meet the Press, reported from the fall of the Berlin Wall… the list goes on and on.
Even though he was an old school journalist, he made a point to stay relevant with his vast network of media contacts throughout the industry. Utley used his contacts to better enrich the class sessions for his students by having them as guests to speak to students and answer their questions.
He was an elegant speaker and seemed to know a little bit about everything. If he said it, you knew it was true.
Utley was a straight shooter. He told you how the industry was and what it was going to take to have a successful career in media. He showed students areas of media and broadcasting that they never knew existed.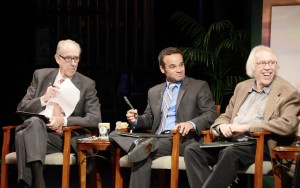 Even with his busy life and spending most of his time in New York City, he always made time for the students. He was a phone call away and would meet with each student individually multiple times throughout the semester.
His devotion to education was above and beyond the call of the profession. Even in his last semester teaching, when he was going through chemotherapy in his bout with cancer, he was still committed to students. Even though he was unable to travel to Oswego he still was there for every video conference class prepared and ready to go. He emailed all the students and notified them about his health, but said the class gave him great satisfaction to teach.  In one of the last classes he told the students how much of a pleasure it was to teach the class and how much it meant to share his knowledge.
The students who had him as a professor, myself included, are lucky to learn from such an esteemed broadcaster and a wonderful human being. He was one of the most intelligent people I have ever met in my life and he will live on through the students he has inspired.
Professor Utley, thank you.
[su_box title="Editor's Note" style="soft" box_color="#8ad53d"] Patrick Malowski is the former Multimedia Editor for The Oswegonian. He served as a teaching assistant for Utley's "Broadcast News: Its History and its Future" course in fall 2013. He is currently finishing his bachelor's degree from Oswego State through an internship with 19 Action News in Cleveland. [/su_box]