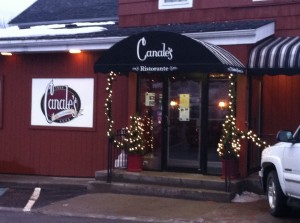 When you first walk in to Canale's, the restaurant on West Utica Street has the feel of your grandma's house. Although the wallpaper and decorations could use some remodeling, it creates a warm, welcoming atmosphere that is family-friendly.
Things at Canale's haven't changed since 30 years ago when my mom was a student here. Canale's is now where my friends and I like to go for a delicious Italian dinner that reminds us of mom's homemade meals.
When my friends and I arrived, the kind staff members seated us immediately and we had a friendly, hospitable waitress. The menu is overwhelming with mouth-watering options. Appetizers range from chicken wings to artichoke hearts to calamari rings. There are multiple salads to choose from along with pizza, chicken, steak, veal, seafood, soup and, of course, pasta.
We munched from our breadbasket while we waited for our food to arrive, which came quickly. Our table chose a variety of different meals. I ordered minestrone soup with chicken parmesan, which came with a heaping side of spaghetti. My friends' orders varied from the famous lasagna, rigatoni, eggplant parmesan and a large antipasto salad.
Our eyes were clearly bigger than our stomachs—the portions given were extremely generous. We all passed our plates around the table, tasting a little bit of everything. The presentation was solid and everything was delicious. No one at our table had any complaints. The classic red sauce was mixed with the perfect amount of cheese and made for a mouthful of tasty flavors that brought back memories of homemade meals. The chicken parmesan and rigatoni were a favorite at the table, but we all agreed that the lasagna was the best and reminded us of an Italian grandmother's recipe.
Apple crumb à la mode, peanut butter pie, cannoli and brownies were all on the dessert menu, but we had to turn down the offer for dessert after being stuffed from the main course! We all got our money's worth with the reasonable prices and the large servings. No wonder Canale's has been around since 1954. The homemade meals and the warm, friendly atmosphere invites local families as well as generations of Oswego students.