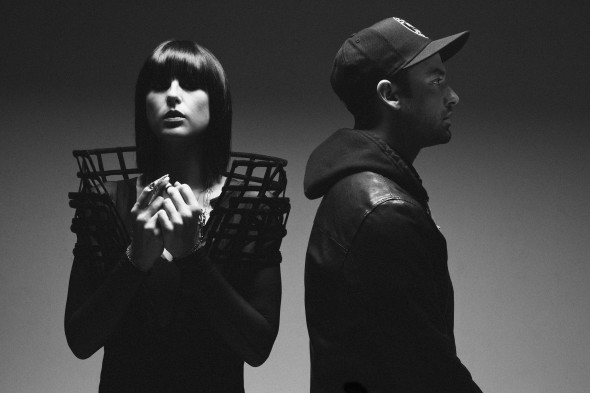 In 2007, Josh Carter and Sarah Barthel came together to create Charlie Everywhere. The name did not stick. However, the duo's new name, Phantogram, has. With heavy electronic beats and creative direction, Phantogram has made a name for itself both nationally and internationally. In 2010, the pair released its first full-length album titled "Eyelid Moves." Met with moderate success, "Eyelid Moves" was praised for its individual sound. Now Phantogram hopes to continue making an impression in the music industry with "Voices."
"Voices" plays similar to Phantogram's previous album, featuring distant, yet surrounding vocals from Carter and Barthel. Featuring darker tunes and heavy bass, the record becomes more than an album, it becomes an experience. As the album builds momentum with each track, Phantogram becomes an unstoppable force in the alt-electronic genre.
One of the album's strong tracks comes in the form of "Black Out Days." In this track, Phantogram's uniqueness shines. With a similar sound to M.I.A's most recent tracks on "Matangi," "Black Out Days" uses Barthel, not just as a singer, but also as an instrument by having her voice continuously in the background, looping around her belting lyrics in the  track's forefront.
In "Voices," true potential for success runs deep in its lead single, "Fall In Love." Definitely danceable, "Fall In Love" alone could carry the album. With its complex synth-pop music backing the sugary vocals of Barthel, the song is intensive and forceful. "Fall In Love" has the capability to reach mainstream radio.
"Celebrating Nothing" is the most pulsating track on "Voices." With simple and repetitive instrumentals, the song is fillseditself with echoing lyrics that encompass listeners. "Celebrating Nothing" brings with it an almost sinister sound that waits quietly until its final moments to show its power.
On "Howling At The Moon," Phantogram hits hard with a sound similar to singer Oh Land. The track, which also resembles "Black Out Days," has a certain sharpness to it. Both Barthel's voice and the high-pitched synths creates a more ethereal and quirky song than more of their darker music. However, when listening to "Howling At The Moon," listeners will note a strong sense of loneliness both in the lyrics and in Barthel's voice.
Finally, there is "Bill Murray." The slowest track on "Voices." The track plays on static and low-bearing sounds to create a sense of emptiness. Then, as the chorus plays out, "Bill Murray" becomes surprisingly beautiful and rosy. There is a type of transcendence within it that helps it stand alone on "Voices."
If there was one criticism to be made of "Voices" it would be on the lack of differentiation between the tracks. Like many electronic artists, Phantogram tailors its record to a specific audience. If this audience finds one song on "Voices" appealing, they will then in turn enjoy them all. So, while not necessarily equipped for the mainstream, "Voices" stays true to itself and its core group of fans.