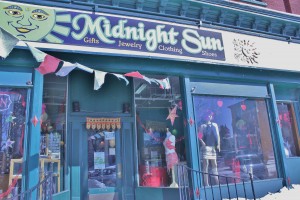 Located at 215 W. First St. in downtown Oswego, the eclectic Midnight Sun offers major benefits to shoppers.
When you focus on the positive in your life, you become a positive person, which is what Midnight Sun is all about. It's a perfect place to get in touch with your spirit.
With prayer flags hanging outside and a Buddhist prayer wheel to your right as you enter to release a Buddhist prayer to the universe, the focus is spreading positive energy. Customers can claim a complimentary tea and a Lindt truffle.
Owner Jim Dauphin aims to achieve an enjoyable and laidback atmosphere. The shop features a variety of items including jewelry, clothing, tapestries, wall hangings, incense, headbands, shoes, candles, tea sets, Ganesha statues and Evil Eye protection key chains.
"I would've never started without the school," Dauphin said. "The age group is perfect for my merchandise. It's a fun age. This is a fun store. The students keep me young."
The shop features the people of Oswego. There are ten local vendors who contribute items to the store, including a woman who hand makes bags out of old ties, calling them "PJ Baggs." People also make pottery, sun catchers, bags, prints of handmade drawings and jewelry.
The place has come a long way, with the past year being its most successful. Dauphin's first shop Kathmandu, named after the capital city of Nepal, opened in 1987. He went on to open Midnight Sun. Due to the merchandise similarities the two began to compete with one another, so he combined the shops.
He thought about getting out of retail for good, but his heart resided with Midnight Sun. After 26 years in the business, Owner Jim Dauphin is extremely pleased with his shop. Midnight has been there for almost three years. Dauphin is hoping to open another location in Downtown Syracuse.
Midnight Sun is an eclectic place with something to offer everyone. To some it's a jewelry store. To some it's a shoe store. The prices range from as low as under $10 to over $100.
"I can't go wrong here," Customer Mark Morey said. "Anything I buy, my wife loves."
Dauphin refuses to re-order pieces once they sell out because he thinks it's uninteresting if everyone has the same things.
Midnight Sun is also thoughtful of the music it plays. Relaxing music is a constant, and local artists are also offered the opportunity to perform on Sunday nights.
Midnight Sun is located at 215 W. 1st St. Oswego NY 13126. Its hours of operations are Monday through Saturday 10 a.m. to 7 p.m. and Sundays from 12 p.m. to 5 p.m.