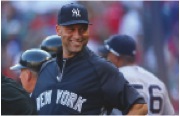 In the classic 1993 baseball movie "The Sandlot," a timeless quote is made regarding the main character's favorite player, Babe Ruth. The quote says, "People say he was less than a god but more than a man. You know, like Hercules or something." This statement was based on accomplishments Babe Ruth achieved with ease while others considered them to be impossible. However, that was back in the day. Nowadays, similar claims could be made about another Yankee of superhuman status, in the form of Derek Jeter. While Jeter may not be nearly as built, powerful, or even "Ruthian" for that matter, he definitely has a legacy that will be discussed about for years, just as Babe Ruth's career is.
It was last Wednesday when the five-time World Champion announced that he would be hanging up his cleats to retire from baseball at the conclusion of the 2014 season. This announcement came as a shock to many, although it was obvious that the day eventually would come where he would have to call it quits. In what will be his 20th season in the MLB, Jeter is going to experience a similar treatment that his career-long teammate Mariano Rivera received in 2013 before his retirement. However, in Jeter's case, he is more likely to receive treatment on a much larger scale based on his image and professionalism. Jeter has unofficially been the face of the league as well as being a shining example of how professional athletes should carry themselves both on and off the field.
Many would say that Jeter is "your favorite player's favorite player," as a majority of the youth in the MLB currently view Jeter as their role model and inspiration in the game. This is simply because Jeter has taken a great deal of pride in what he does, carrying himself with class and respecting his peers from every aspect of the game, ranging from beloved teammates or even bitter rivals.
With Jeter walking away at the conclusion of this season, the title "Face of MLB" will seemingly be vacated as well. However, it's not a title that can be won, given, or handed out. It is one that is earned unintentionally. For an athlete to be viewed as the poster boy or girl for a sport, it must be earned through years of consistent professionalism, respect for the game, and pride in what you do every single day. Examples also live in guys like Peyton Manning (NFL), LeBron James (NBA), Michael Phelps (Olympics), David Beckham (soccer) and so on. To be viewed as the face of a sport is realistically a higher honor than being an MVP, Champion, or Hall of Famer. Being the face means that one is the unofficial leader of a generation. It's a title that isn't dependent on gender, creed, or race, but on who takes extreme pride in the sport they've played.
Jeter's winning attitude on the field is a quality that fans really appreciate. Whether it's running across the field in Oakland Coliseum deep in October to save a play, a run and the Yankees' championship hopes or diving into the left field stands to catch Trot Nixon's pop fly in the important stages of an early July rivalry game, it should be noted that Jeter is the prime example of a guy who was willing to sacrifice it all. He has become one of the fiercest competitors of all-time in any sport. As he retires at the end of this season, we will remember Jeter for being something of a legend. Something less than a god but more than a man. Like Hercules.