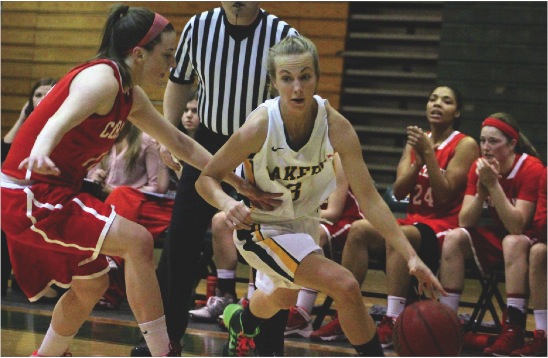 Senior guard Jenn Robbins has been a force to be reckoned with for the Oswego State women's basketball team this season.
The Geneva, N.Y. native is averaging just over 17 points per game, the leading scorer for the Lakers this season. Robbins, who transferred to Oswego State from West Liberty University last year, has found a solid comfort level this season, which has been the best of her collegiate basketball career.
Growing up, Robbins was introduced to basketball by her father at a young age. In second grade, she played on the boys and girls club team alongside her brother. An all-around athlete, Robbins also played softball and wrestled when she was young.
At Geneva High School, Robbins was a multi-sport athlete, participating in swimming, track, soccer and lacrosse.
However, it was clear that Robbins was best suited for basketball, as she led all of Section V in scoring her senior year and went on to set the school record for career points and assists.
Coming out of high school, Robbins committed early to play at Division II West Liberty University in West Virginia.
"I signed pretty early because at the time I liked the school and had a full scholarship and they were a good, competitive team," Robbins said.
As a starting freshman at West Liberty, Robbins was ranked second in the nation in assists/turnover ratio and third in assists before transferring to Oswego State after her sophomore season.
"Academically, [West Liberty] just wasn't for me and also I didn't really like the location. I wanted to be closer to home," Robbins said.
Robbins joined the Lakers midway through the 2012-2013 season, playing her first game with Oswego State against William Patterson University on Dec. 30, 2012. As she adjusted to her new team, Robbins, then a junior, averaged 6.9 points in just 18 games played while averaging 20.8 minutes. Going into this year, Robbins knew she would have an increased role in leading her team.
"I knew coming into this season I was going to have to step it up just because we lost a lot of good players," Robbins said. "Now I'm just more comfortable with the team. I've gotten to know them a lot better the past year."
After transferring schools, the offensive-minded Robbins has successfully been able to adjust to a new way of playing under Oswego State head coach Tracy Bruno.
"The biggest thing with Jenn was just a comfort level. She was in a tough spot transferring and joining us at the halfway point last year and having to go from the system she was comfortable with to a new one,"  Bruno said of her guard. "The ability was always there, though. The kid can flat-out play."
Back in November 2013, the Lakers began their season with wins against Clarkson and RIT en route to the Max Ziel Tournament title. Robbins was named Max Ziel Tournament MVP after scoring 14 points and tallying four assists against Clarkson before recording a career-high 30 points to go with four assists against RIT.
She was awarded Oswego State Female Athlete of the Week for the week ending Nov. 17.
Despite her offensive abilities, Robbins has focused more on defense this year due, in part, to her head coach.
"The coaching styles at the two schools I've played at were totally different. I've learned to respect defense a lot more under Coach Bruno because she's a lot more defensive-minded, and I think that's really helped me improve a lot on defense since I've been here," Robbins said.
Bruno has been impressed with Robbins' play, both offensively and defensively, since joining the Lakers. This season, the guard is currently ranked third overall in the SUNYAC in points per game and first in three-pointers made with 69.
On the defensive end, Robbins' 36 steals are good for eleventh in the SUNYAC and are the most she has ever had in a collegiate season.
"She's one of the best flat-out scorers I've ever coached. She can shoot the three with great efficiency, she's got great handles, she's not afraid to shoot off the break, and for her size, she's not afraid to go in and attack the basket," Bruno said.
"From a scoring standpoint, she's an extremely tough defensive matchup. [Robbins] is also really a great team player. To have that scoring ability and the ability to play with your teammates is quite the attribute."
Robbins had what may have been her best game of the season in last Friday's overtime loss at SUNY Potsdam. The senior scored a career-high 31 points, draining seven of her 10 3-point shots. She added five assists and a pair of steals in 42 minutes of action.
Off the court, the senior is an education major and is student teaching this semester. After graduating, Robbins hopes to move south and one day open up her own daycare.
The Lakers finish off their season against SUNY Cortland on Saturday at 2 p.m.