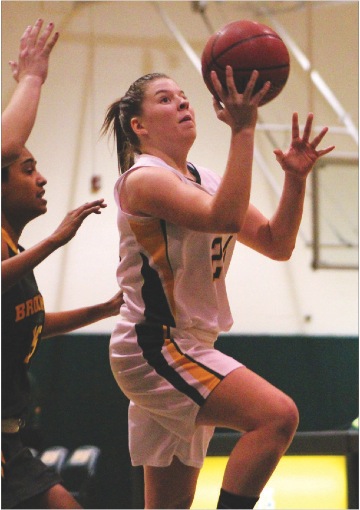 The last home game of the season brought both cheers and tears on Tuesday night, as the Oswego State women's basketball team (6-18, 2-15 SUNYAC) fell to The College at Brockport (9-14, 5-11 SUNYAC), 51-50.
Brockport got off to a fast start and took control of the game early. The Golden Eagles held Oswego State scoreless for the first five and a half minutes, while taking an early 9-0 lead. However, the Lakers were able to work their way back, cutting the deficit to four at halftime, 21-17.
The comeback was aided by several traveling violations committed by Brockport, which became a theme throughout the game for both teams.
Once Oswego State was able to make up ground it had lost in the first half, the game remained close until the end.  Several lead changes paved the way for a dramatic, last-minute finish at Max Ziel Gymansium.
With under a minute left and the game tied at 48, sophomore Heather Hebert split the defense and sunk a layup to put the Lakers up by two with 13.9 seconds remaining.
The Golden Eagles immediately took the ball down the court and senior Alexandra Marshall converted a three-point play with 10.4 seconds remaining to give Brockport a lead it would not relinquish.
Oswego State senior Jenn Robbins brought the ball up court for the final possession of the game, but she dribbled the ball into a trap and was forced to kick it out to Alison Nunziato.
The freshman was able to get a shot off with less than a second remaining, but the shot bounced off the rim and there was no time remaining for a second shot.
Robbins led the Lakers in her final home game with 16 points, shooting 3-for-9 from three-point range and 6-for-17 from the field overall.
Hebert finished with eight points and a team-high seven rebounds, including three on the offensive glass.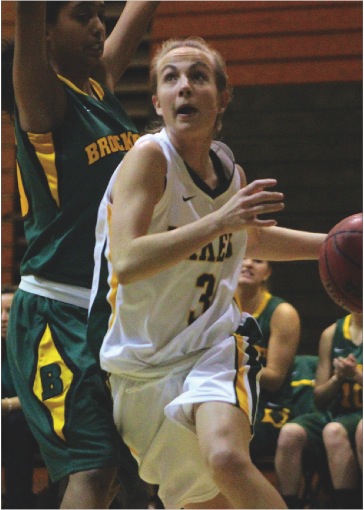 The loss was the Lakers' 11th straight in SUNYAC play and despite the season going downhill after a promising start, head coach Tracy Bruno loved what she saw out of her team down the stretch.
"They're still battling," Bruno said.  "It still matters (to them) that they win, they're still putting forth the effort, but the ball just hasn't bounced our way."
Bruno noted how her team could have just thrown in the towel after being eliminated from conference tournament contention, but the fight that her team has shown is unparalleled.
Looking into the foreseeable future, Bruno said she believes that replacing her three seniors will be challenging. Robbins, Lauren Nunziato and Paula Egleston were three key parts to the Laker team this season, and replacing them will be anything but easy. But Bruno said she will stay optimistic.
"There are certainly moments with our younger players," Bruno said.  "Alison Nunziato rotated into the starting lineup, I think she has a huge upside, and with Tayler (Sorell) and Mary (Mazzella) at the point guard, I think there's a lot of things to be excited about."
Bruno also said she believes the way her team finished will help motivate the players in the offseason to improve upon their shortcomings.
Recruiting is another positive that Bruno said she is happy about going forward, on top of who is returning.
There is one particular player which Bruno said she will be very happy to have on her roster for a full season next year in junior transfer Haley Witchella.
Witchella joined the team in the middle of December and Bruno said she is excited to continue watching her develop further next year after the success she has already achieved.
Oswego State will finish off its regular season on Saturday afternoon when it travels to SUNY Cortland (10-7, 14-10). Tip-off is scheduled for 2 p.m. at Whitney T. Corey Gymnasium.