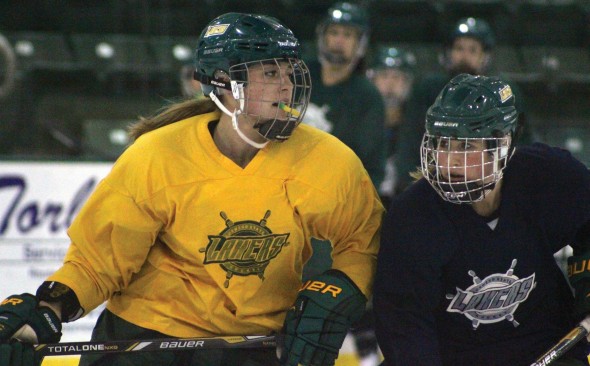 Despite being a freshman, Kendall Appelbaum has already established herself as one of the most tenacious players on the Oswego State women's hockey team.
She has performed well in her first season with the Lakers, having recorded with 11 points so far this season, making her the leading freshman scorer.
Appelbaum first laced up the skates when she was 3-years-old in her home town of Eden, just south of Buffalo under the influence of her father and uncles. Her dad played and Appelbaum said she wanted to follow in his footsteps
Applebaum grew up playing for the Nichols School in Buffalo, the same team that produced teammate Bridget Smith, a junior goaltender for the Lakers. Appelbaum also played on a travel team, the Buffalo Bisons, which contributed to Oswego State's roster with senior defender Chelsea Hunt and freshman Ashley Lyman.
Since Appelbaum knew she wanted to play hockey since she was younger, she knew she wanted to keep playing in college.
"Pretty early, as a freshman I was considering it since most girls on my team went on to play college hockey," Appelbaum said.
But Appelbaum did not want to go to her father's alma mater, Lake Forest College, and wanted to go on her own journey, which brought her to Oswego State.
"I just liked it a lot better here," Appelbaum said of her new home. "It's a better team, a better atmosphere and has a really cool rink."
Appelbaum is an impact player for the Lakers. She has a team-high five power play goals on offense and also embraces the dirty work required for a defender, especially in the physical ECAC West conference.
"I love being a defender and protecting my goalie, but I also love getting gritty and putting the puck in the net," Appelbaum said.
Apart from being a strong offensive force on the team this year, it is her versatility and ability to adapt to a different position that has earned her more time on the ice despite a crowded Oswego State bench.
"She (head coach Diane Dillon) has been throwing me back and forth because I have been successful on both (sides of the ice)," Appelbaum said. "Earlier in practice, I was at D, when last game I played forward throughout the entire game."
The 5-foot-9-inch right-handed defender and forward has been a wrecking ball throughout the season, playing with a physical presence in the defensive zone that rivals her offensive prowess.
Appelbaum was hesitant to talk about herself, but was quick to acknowledge her teammates and the chemistry they have formed as the main reason for her success.
"I think that everyone has become super comfortable together," Appelbaum said. "Everyone has just come together so well. Even with the injuries and the switching up of the lines, everyone has adapted so well. Everyone has grown as players, all of us."
Off the ice, Applebaum takes part in much more laid-back activities as an art major. However, she is not sure if she will continue down that path.
"I don't know what yet, I'm taking all gen-eds now but I love photography," Appelbaum said. "I was taking drawing and all that but I don't really like that stuff so I'll probably minor in photography."
Appelbaum spends most of time on the ice and training in an effort to become a better player and help the team reach its championship aspirations.
"I want to get faster and stronger, both mentally and physically," Appelbaum said. "I want to bring the team success and maybe bring home a national championship."
Appelbaum said the dream of a championship is not too far off considering the recent success of the team and the continuing improvement of the younger players on the roster.
Applebaum also hinted that she wants to become a captain before her time at Oswego State is up, although she knows the responsibility and the honor are not easily bestowed.
However, with her work ethic and skills on the ice, Appelbaum may be on the fast track to becoming a leader for the young Oswego State team.