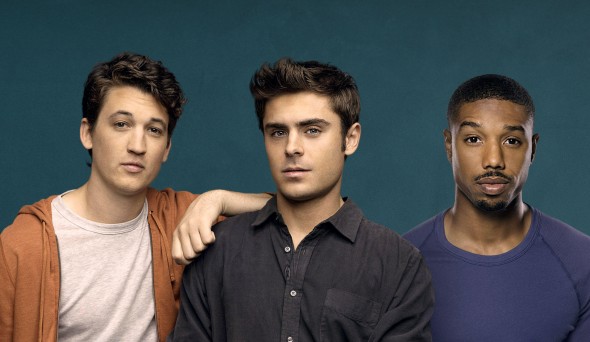 "That Awkward Moment" is about three 20-something-year-old male friends trying to navigate the dating scene.
The "awkward moment" referred to in the title is the moment where a relationship either reaches the next level or ultimately fails. The film centers around three friends, played by Zac Efron ("The Paperboy"), Michael B. Jordan ("Fruitvale Station") and Miles Teller ("Spectacular Now"), dealing with these moments. Efron and Teller's characters, Jason and Daniel, are at a similar place in their lives. They have the same job and they both spend their nights drinking and trying to pick up women they can add to what they call their "roster;" women they sleep with but don't want any romantic attachment with.
Jordan's character Mikey is in a different place than his two friends. He begins the film starting divorce proceedings. To comfort him, his friends promise not to get into relationships and show Mikey everything he's been missing by not being single. As is destined in a romantic comedy, this plan ultimately fails when Jason falls for an author named Ellie (Imogen Poots, "Fright Night") and Daniel falls for his friend Chelsea (Mackenzie Davis, "Breathe In").
This is a romantic comedy, so there are clichés and the plot is ultimately predictable. Either these couples are going to get together or they aren't. The chemistry between the leads is excellent, especially between the main three guys. There's also a good deal of great banter and dialogue, but almost too good to the point of being unrealistic. It's rapid fire and everything they say is witty. The problem is that all the characters have the same sort of voice and humor, coming off as redundant.
The main problem with "That Awkward Moment" is its female characters. They're not fleshed out at all. They seem flat, and though this is from the men's perspectives, it doesn't mean the female characters shouldn't have substance. In the end you hardly know anything about these women, just that these men have seemingly fallen in love with them because that's what the plot calls for.
What it felt like, watching this film, was that it was a sitcom pilot that someone had decided to stretch out into a feature length film. As a sitcom, this would have worked. You get to see a sort of array of moments in these characters' lives that could have worked much better in a half-hour episodic setting. It would have given the audience more time to get to know these characters and let the relationships develop at a less rushed pace.
There are quite a few good comedic moments, a lot of clever dialogue and all the necessary romantic moments to make this film work. For first-time director Tom Gormican this was not a complete misfire, but the movie would have been more successful if it had committed more time and description into its characters.