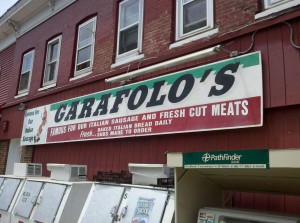 Throughout my time at Oswego State, the common word on the street has been that there are not many places to enjoy decent food. I was a believer of this perception until the first semester of my senior year.
To fight this misconception, I set out to find the best sandwich/sub in the city of Oswego.  I went to numerous places for lunch trying something different each time. The result is this compilation of five great sandwiches, which gives students some quick and delicious lunch or dinner options.
Port City Cafe
One of my experiences was Port City Café.  The café is located on West First Street in downtown Oswego near the Canal Commons.  The café offers a variety of sandwiches, soups, and paninis.  After a few times trying it out, I quickly found my favorite sandwich. The Monterey Melt was a great way to spend a lunch.  The sandwich is full of tender roast beef, Monterey jack cheese, bacon, oven-roasted onions and horseradish mayo to give it a little kick, all on toasted bread and for $5.75.
Oswego Bagelry and Sandwich Shop
A few doors down on First Street is the Oswego Bagelry and Sandwich Shop. This spot is known for its fresh bagels and hearty bread, but it can turn out a quality lunch sandwich as well. With just a few menu options, the favorite is the turkey club.  Come hungry for this one; its toasted bread compliments a sandwich piled high with thick turkey, lettuce, tomato, onion, banana peppers and crispy bacon.  The size really makes it for a low cost of only $5.50.
GJP Italian Eatery
Another place with a sandwich that will keep you coming back is GJP Italian Eatery. Located on the east side of Oswego on Route 104 in the Oswego Plaza, GJP is best known for its huge menu of Italian food, with everything from pizza and wings to great sandwiches.  The dealmaker is the weekday sandwich and sub deal.  Any sandwich or sub before 3 p.m. is only $4.99.  The GJP's Special Steak sub is one of the best. The large bread is filled with chopped steak, cheese sauce, and fried peppers and onions.
Garafalo's Sandwich Shop
A popular location is Garafalo's Sandwich Shop on East Bridge Street. The shop is known for its large, thick bread.  A whole sandwich from this place will supply you with a entire loaf of Italian bread made into a sandwich.  Virtually any combination is available, but the favorite is the Italian. The mix of ham, salami, toppings and condiments of your choice, mixed with the hearty Italian bread, leaves even the hungriest of eaters stuffed.  Garafalo's can be a little more on the pricey side, but if you're hungry, the few extra dollars might be worth it to indulge.
The Pies Guys Pizzeria and Fish Fry
With all the sandwiches on the board, it is tough to say there is one that beats all of these. But there is; it's the Chicken Bacon Ranch hot sandwich from The Pies Guys Pizzeria and Fish Fry on Baylis Street. With a loaded menu of pizza, fish, gyros and sandwiches, this gem was a treat to find. Loaded with chicken tenders, cheese, lettuce, crispy bacon chunks and drizzled in ranch dressing, each bite is full of flavor. Matched with a decent price ($6.29 for a whole sub), this sandwich is No. 1 and the one to beat in Oswego.