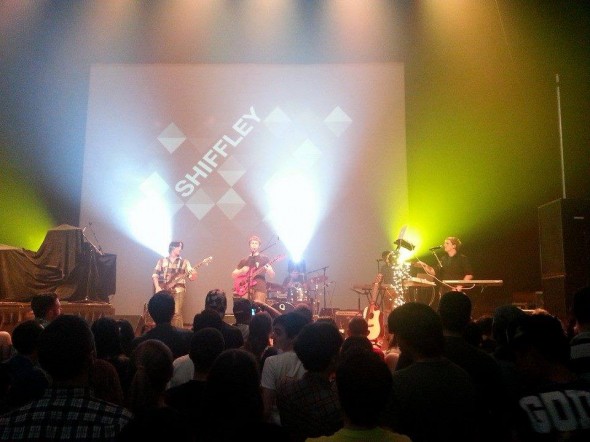 You wouldn't expect a band to find their missing piece on Craigslist, but that's exactly how, at age 15, Shaune Killough met his counterparts in making music. That's how the band Shiffley came to be.
"None of us had any business being on Craigslist at that age," Killough said. "But still, I auditioned for the band as a guitarist and got the spot." The lineup was under a different name.
Now playing as Shiffley, the alternative pop quartet is making waves even though all members live at different colleges. Alex Ganes, lead vocalist and guitar player, is enrolled at Syracuse University,  Bryan Contreras, drummer, goes to SUNY Old Westbury, Alex Jenks, keyboards, attends Furman University, and Killough, the bassist, is an Oswego State student.
The band recently opened for the artists Twenty One Pilots after winning a contest on social media for the opening spot. They are currently nominated in the "Gig of a Lifetime" contest to play at the Grammys in Los Angeles. On Jan. 4, the band is holding a release show for their second EP "Atomic Robot Man."
Shiffley's alternative pop sound will make listeners want to dance. The sound is a nice combination of a raw rock sound mixed with soft pop melodies that will stick in your head. Killough's bass is doing more than just following the guitar part, helping to drive the song along with the synth melodies. Killough first learned to play guitar, taking his style to the rhythm section with Shiffley.
"I'm a self-taught guitarist of about nine years," Killough said. "I'm not really a bassist, and yet I play bass. However, I play a bass like a guitarist."
The "Atomic Robot Man" EP is continuance of Shiffley crafting their unique sound. The release was mixed at The Cutting Room Studios in New York City, which hosts clients such as Linkin Park, Kanye West and Bon Jovi.
"Finishing our songs at such a renowned studio was a dream come true for us," Killough said. "But now that that's done, our most important job is to get our songs onto your iPod and into your head. We're planning a winter tour to support its release, which leads up to our EP release show."
Killough is an active student on the Oswego State campus, mainly in broadcasting. He's spent a good amount of time working at WTOP-10, the college television station, and is a teaching assistant for a video production course taught by the college. In his spare time, he likes to play music with other musicians and friends in Oswego.
The band plans on building from where they are now when the summer comes and they have time to play regularly again. When it comes to becoming famous musicians, the band plans on taking small steps and enjoying the ride.
"We just want to work our hardest, and put on the best performances we can, so we can share our music with as many people as possible," Killough said. "That's really the goal, and I think that's the goal of any musician who loves what they do."