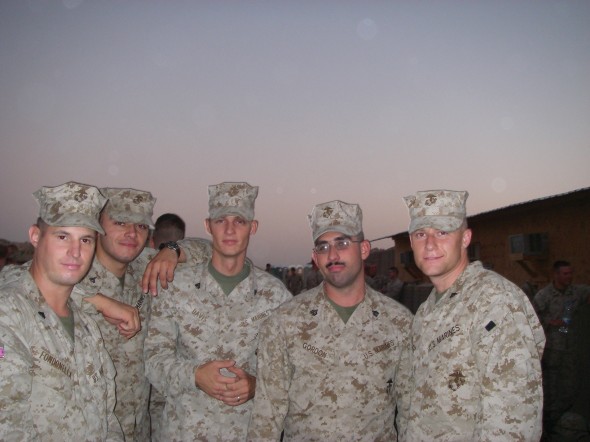 Name: Matthew Gordon
Major: Cinema screen studies 
Minor: Theater
Service: Almost nine years in the Marines
Originally from: Grant County, Ky.
"Well I joined the Marine Corps in September of 2002, attended boot camp at Parris Island, S.C., 3rd Battalion," Gordon said. "Thirteen weeks of grueling drill and getting you prepared for everything you're going to experience."
Gordon attended the school of infantry for another 13 weeks, where he became a tow gunner and anti-tank assaultman. Then, he joined the 1st Battalion Sixth Marines weapons company in March of 2003.
"Pretty much immediately after I got to my first battalion, we started working out for deployment to Afghanistan," Gordon said. "From March of '03 through May of '04, we were training and preparing to go on a however long deployment to Afghanistan."
Gordon said he was deployed to Afghanistan and flew into Kandahar Air Base. He said his deployment was originally only supposed to last five months, but was extended to eight months since they were asked to stay where they were.
"Our battalion was one of the first American units to push up into the Northern provinces of Afghanistan, north of Kandahar so we were there for about eight months," Gordon said.
When he came back, he had to leave his unit for medical reasons while his unit deployed to Fallujah, Iraq. However, Gordon said when they came back in 2005, he rejoined them and was cleared for the next deployment to Ramadi, Iraq, in September 2006.
"We operated in West Central Ramadi for about five months, we had about two months left on our tour and we got extended again. That was around the time they were doing the search through Iraq. We were one of two Marine Corps units that they said 'Hey, you're going to stick around,'" Gordon said. "We did a total of nine months in Ramadi."
Gordon was engaged to his  wife when he was deployed. He said he had to delay his marriage until after he returned from service. His wife was pregnant at the time of his deployment.
"She was about six months pregnant when I deployed to Ramadi, so my daughter was born in November and I was sitting in Ramadi every couple of hours calling from the satellite phone to see if she was OK," Gordon said. "That made that deployment a little more troubling, trying for me. My daughter was about six months old before I met her."
Gordon said his tour in Iraq was much more different from Afghanistan.
"A lot more firefights and everything, and of course we were in the city, so it was a lot closer together and everything, a little more intense than Afghanistan was," Gordon said.
Gordon returned and went from 1st Battalion Sixth Marines to Quantico, Va., where he became a rifle coach at weapons training battalion. He taught second lieutenants who were going through their officer candidates school and specialized school. Gordon taught them how to shoot and how to qualify on the rifle range. Due to health issues, he was medically retired in June of 2011.
He then moved to Oswego because his wife wanted to be closer to family. After looking at the job opportunities in the area, he decided to come to Oswego State on the GI Bill, something he is very grateful to have. Gordon then became president of Oswego State's Veteran's Club.
"I'm just trying to ease transition for veterans and change the perception the way people think of veterans," Gordon said.
Gordon revitalized the club when he came to Oswego State. He had asked about the club during his orientation and was told that while the club had become inactive, he was more than welcome to take it over and start it back up.
Gordon said he aspires to become an actor when he leaves Oswego State and sees the cinema screen studies major as a great opportunity for him to pursue his ambitions.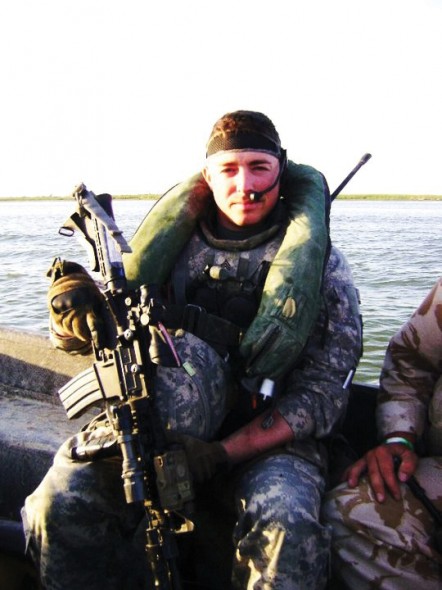 Name: Ken Cisson
Major: Business Administration
Service: 11 years in the Army
Originally from: Jacksonville, Fla.
"I joined the Army in August of 2000 as an Infantryman and exited the service in 2011. My reasons for enlisting were to not only ensure having the benefits of college being paid for, but of military tradition with my family," Cisson said.
Cisson said in 2002 he was chosen for recruiting duty and became the youngest recruiter in the United States Army Recruiting Command and worked in Jacksonville, Fla., also his hometown, for about three years.
Cisson served in Operation Iraqi Freedom as an Infantry squad leader for two campaigns and was directly in charge of 25 soldiers.
"I took part in over 300 combat missions during this time," Cisson said. The missions were in Baghdad and Basra, Iraq.
He said his experiences do not define who he is; rather they have helped him become who he is today.
"To define my experience in the military I would simply say this: As a soldier there are many experiences; a great deal of positive mixed with the negative," Cisson said. "There are hardships asked of a soldier that most civilians would find incomprehensible."
Cisson is the vice president of the Veterans Club at Oswego State. He said the club helps veterans with a smooth transition
"Not only does the club support the Veteran students of Oswego State, but promote fundraisers and make contributions within our community," Cisson said. "Those contributions go to not only Veteran causes and awareness, but generally to any organization in the community that could use the support to help others."
Cisson said the club focuses not only on easing the transition, but retaining veterans on campus as well. He said that veterans will always seek out other veterans.
"I can honestly say as Veterans we are a subculture. This club allows a strong support system that they were used to while serving," Cisson said. "I can relate my experience during my time in the military and there is a huge comfort in having that. This support and comradery motivates me to see my goal of completing my degree through."
Cisson said that while Oswego State is moving toward a military friendly school, "there needs to be change with the 'orientation' for our demographic."
"To have the option of meeting with a Veteran student to guide or mentor as a new student would help tremendously. This will help ease the pressure of coming into an unknown environment. It also makes the Veteran aware of who his/her support chain is, where they congregate, and to over all get a clear understanding of what to expect," Cisson said. "This mentor was obviously in their shoes at one time and would help make this transition go smoothly and joyfully. I understand that there is a schedule to stick by during the orientation phase. However, there are times that should be placed on this schedule for Veterans only. That way this connection with this brother/sisterhood starts from day one."