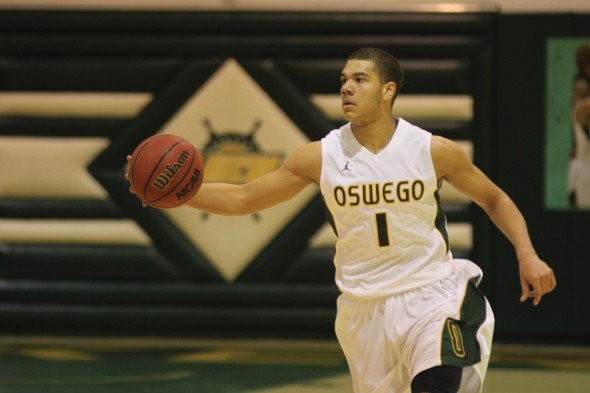 The Oswego State men's basketball team is looking to improve on last season, but with a new look to the squad. The Lakers finished last season with an overall record of 19-8 (11-7 SUNYAC) and an appearance in the SUNYAC Championship tournament.
The team advanced to the semifinals after defeating The College at Brockport in the quarterfinals, but lost to SUNY Cortland in the semifinals. The loss is something they will be looking to bounce back from, but with different players and a new core leading the way.
One noticeable difference with this year's squad compared to last year's is that there is more youth. There is only one senior on the team this season, Daniel Ross, and only two juniors, Rashawn Pawell and Larry Rivers.
The other ten players that make up the team are either freshmen or sophomores, including the two captains chosen by head coach Jason Leone, Alex Rawa and Elijah McLaurin.
Leone is entering his third season at the helm of the Lakers. In his first season, he led the Lakers to their first SUNYAC Championship in over four decades.
One of the keys to success this season will be how well the young core can perform, as they will be an X-factor going in to every game.
"We do have a lot of new pieces, our main focuses are on personal development with these off the court and player development on the court," Leone said. "Our goal is to see how close-knitted a team we can become.
"It's like when you're cooking a Thanksgiving dinner, you can't be focused on the end product, it takes a while to stir the ingredients."
With two sophomores slated to be the captains this season, one would expect to face pressure to perform and lead the locker room.
"Both of our captains are sophomores, so they really haven't had so much experience. This is really a unique group," Leone said. "I've been trying to talk about the team more collectively, if anything, because the both of these guys are still learning how to be captains. They're sophomores."
Leone loves the work ethic of his players and said he feels that they are doing great things even when things are not going so well.
"We're pleased right now. We've focused on one or two things here in the first 22 days," Leone said. "There has been buy-in with the kids, though we've had some ups and downs. And on our bad days, the biggest complement I can probably give these guys is that they come in the next day ready to work again, and with a positive attitude. Sometimes with a young team, you're going to have more of those tough days where fatigue is an issue, both mentally and physically. These guys have come back ready to work every single day after a bad day. That resiliency is a good sign for us."
Leone does not have an idea set in stone as to how the season will go, partially because of the changes coming. But, he said he does not know what to expect out of the rest of the SUNYAC this season.
"It's hard to answer how we compare to the rest of the conference because we haven't seen any of them play yet," he said of the conference opponents.
"Schools like Plattsburgh, Geneseo and Brockport will be returning the most out of the rest of the teams in the conference."
However, Leone feels confident that his team is going to compete for the foreseeable future.
"I think because we have so many new pieces, we have the most room for growth in our league," Leone said.
"We have a lot of room for getting used to one another, so I think that by the end of the year, provided that these guys continue with the attitude they have had thus far, and if we catch a few breaks, we have the most chance for improvement in the conference."
It will definitely be an interesting season for the Lakers as they hope to perform well, in spite of the changing of the guard.
"We right now have to focus on everyday habits. A lot of them, to be brutally honest are non-basketball related, or non-tangible related, compared to a lot of teams that have a lot of juniors and seniors," Leone said.
"Right now, we're working on a lot of the X's and O's of the game. Right now we're still teaching our guys: this is how you practice, this is how you root for one another on the bench. We've been talking a lot about the intangibles that good teams do and we are trying to form a team that way.
We may not have as many schemes on offense or defense as some other teams, but I think we've gotten pretty good at three or four things, which I think that when you have an inexperienced group, less is more. We give them a lot of credit."
Leone stressed, however, that patience is important for success.
"We're going to be fine," Leone said. "These guys are good players. We, as coaches, are patient, the players are patient, we're asking the fans to be patient, but there are definitely good things on the horizon."
Despite certain differences from what fans have been used to the last few seasons, it will be a highly-anticipated and exciting season for the Lakers, their fans, the players and coaching staff alike, to be able to see the potential that the young roster provides.