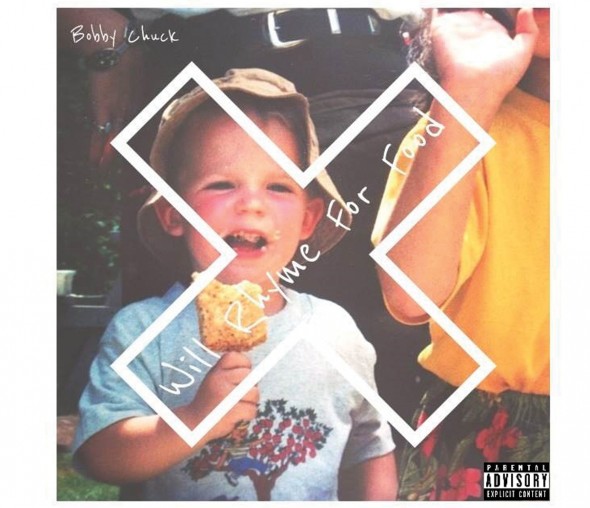 When I sat down with junior Rob Dezendorf, known as his stage name "Bobby Chuck," I was greeted by the infamous black and white poster of Muhammad Ali standing over Sonny Liston and the caption, "First minute, first round" in bold white letters.
To most people, that caption is nothing more than a caption, but in eyes of Bobby Chuck, those words represent him. It's because of that very caption that Bobby Chuck wrote his song "1 Minute 2 Go Off," in which he introduces himself, who he is and what he's about in just a minute of rapping. From talking to Bobby Chuck, one can pick up on his determination and his passion for the hip-hop and rap game along with all music, but what stands out most is his desire to succeed and his lack of fear when it comes to failure.
His goal is not to gain the money, the fame and the perks that come with the fame. Instead, it means more to him to gain the opportunity to make an impact in society while changing the culture we currently live in, both musically and socially.
"Will Rhyme for Food" is the title of Bobby Chuck's yearlong project that is expected to be completed by April 2014. The idea of achieving his goal even if it means doing it all by himself does not faze him as he writes, records, mixes, masters and produces all of his own work. When it comes to the album's concept, Bobby Chuck gave me the insight.
"Just as a homeless man would offer to work for food, I am just as eager to show the world that I can make a difference and help people through my music. I'm hungry to show you how much I want this, and what I've got," he said.
The album's sound is very unique and eccentric. The styles of old school jazz, soul and funk are blended with a modern flare of music. Production is one of his strong points, and his strongest impact comes from his knowledge and appreciation of the roots of hip-hop and rap, which separates him from the imitators.
"There are so many people who get into the hip-hop, rap game with a general knowledge of modern mainstream music who think they know about its history but they have barely scratched the surface," he said. "To me, you need to really do your homework and dig deep into the roots of hip-hop and rap to understand its purpose and culture, otherwise you'll just disrespect and ruin it."
Bobby Chuck definitely does not disrespect or ruin the hip-hop game in "Will Rhyme for Food." He hits the nail on the head. Along with that old and new school blend on the album, he explores a lyrical adventure that proves his self-proclaimed "storytelling" style very much true. His lyrics display a wide variety of emotions, highlighting his personal struggles and life lessons. It is crucial for each song to have a concept. He avoids the "musical clichés" that we have become familiar with, such as "What doesn't kill you makes you stronger" or "Started from the bottom now we're here," Those clichés come off as very boring and even played out to Bobby Chuck. He said he is inspired to create a major change of pace to the old stories in music in his lyrics.
Bobby Chuck hails from a very musical background where both his mother and grandmother were singers. His mother was offered a record deal by Warner Music Group to sing country music but declined the offer, while his grandmother sang professionally in New York City. She even performed numerous duets with Frank Sinatra. As a result of these musical roots, he has essentially become a jack of all trades, picking up instruments such as the piano, trumpet, drums and much more.
The stage name "Bobby Chuck" comes from his father, Robert, ("Bobby") and his grandfather Charles, ("Chuck"). He describes his stage persona as a story teller, a real person, and someone who stands among his peers and seeks to empower them, rather than stand above them.
Bobby Chuck has Low Latent Inhibition, which means he processes concepts, people and images, so accurately that he is able to notice small changes that would normally go unnoticed by others. He uses this to its fullest extent, using this to his advantage when it comes to writing his music. Writing music the easiest part, for him as he can store so much in his memory prior to writing it down on paper. He said that when he returns to his hometown of Huntington, N.Y., this winter, he will wrap up the lyric process of "Will Rhyme for Food" fairly quickly.
One song Bobby Chuck has been focused on recently is "Animal House," named after the movie of the same name. The song has been in production for over six months and includes a speech from the movie which he says represents himself. The concept of "Animal House" is a rebellion agaisnt those who are trying to keep people down and is another statement track from Bobby Chuck, about the message of the song.
"This is what I'm doing. you can jump on the bandwagon and be with it, or you can get out, because I can't let fear hold me or those close to me back," he said.
It is no secret to Bobby Chuck that that Caucasian hip-hop artists have been branded with negative labels, with the exceptions of Eminem, Beastie Boys, Macklemore and MC Serch, yet when asked about his view on the topic, he said he believes that there is "a place for white rappers as long as they respect the history and contribute to the culture."
"Hip-hop is about the feeling it gives you. Race becomes irrelevant when the music makes you feel good," he said.
The 21-year-old Oswego State student certainly has set the bar high when it comes to his goals and aspirations. A self-proclaimed "hip-hop nerd," he is determined to make an impact on the hip-hop game by taking his audience old school while bringing in the new school.
"I want to give my story to help others with theirs and know they are not alone," Bobby Chuck said. "I'm not your typical 'drugs, money, women' rapper. I'm that chill, feel good, introspective guy who loves to make music that really                                          means something."
Bobby Chuck doesn't believe luck is a factor when it comes to his music career. It's all on pure will to succeed and the desire to make a difference in the world.
"I'm pure, real, and most of all, hungry," Bobby Chuck said.
Keep a lookout for Bobby Chuck's debut album "Will Rhyme for Food." In the meantime, you can like him on Facebook (Bobby Chuck Raps) or follow him on Twitter                                               (@BobbyChuckRaps).