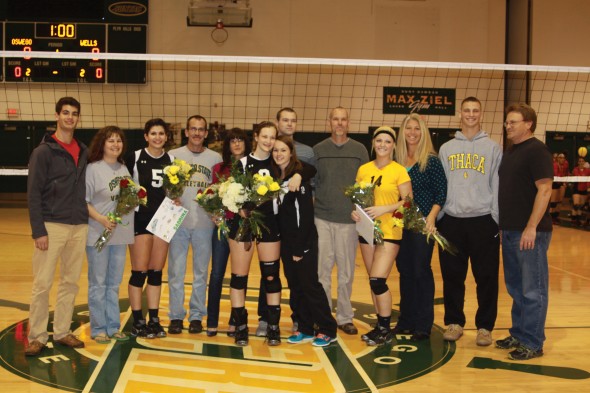 The Oswego State women's volleyball split its final two games of the season, falling to Keuka College and defeating Wells College, to close the 2013 campaign with 20 wins on the season.
It was Senior Night, as this was the final home game for the seniors who will be graduating in May.
It was a bittersweet ending for the Lakers. Despite a great overall year, poor conference play kept them out of the SUNYAC playoffs, having finished only 2-7 within the difficult conference.
"Twenty wins is a good record to have," said head coach J.J. O'Connell. "It's unfortunate that we missed the cut for the playoffs however."
This is the first time since 1994 that the team has reached the 20-win mark. The team from 1994 finished with a mark of 42-4, the club record for victories.
It was Senior Night for Sabrina Sutton, Morgan Lavner and Meaghan Puff. All three were honored before the matches.
The Lakers fell to Keuka in straight sets via scores of 25-22, 25-20 and 26-24.
"There was good play from our right side hitting and liberos, but our passing continues to be an issue," O'Connell said.
Stephanie Bailey (nine), Kelsey Dillon (eight), Kim Cassa (seven) and Megan Russell (six) led the team in kills to pace Oswego State. Bailey and Dillon both led the team with four block assists while Russell added three of her own.
Cassa had two blocks in the contest off a solo and an assist. Rachel Ruggaber had 24 digs, which was the game high.
Lauren Edwards also had a game-high 18 assists, while Lindsey Champitto added 16 of her own.
The Lakers controlled the following match and won in straight sets, 25-16, 25-17 and 25-15. Russell led the attack on Wells with eight kills, while Puff, Bailey and Dillon each had six.
Edwards again had the most digs with nine as Sutton chipped in eight. Puff and Champitto both collected six digs.
Edwards also had a team-best 14 assists in the victory. Lavner had five assists, along with a dig in her final game as a Laker.
As far as goals for next season are concerned, O'Connell is looking forward to improving.
"We want to get into the playoffs. We definitely have the opportunity," O'Connell said. "We've got some good young athletes and they're already working hard towards next season."
With the core of this year's squad consisting of mostly freshmen, he sees the potential to make the playoffs next season.
"I feel the new freshmen that will come in next year will push them," O'Connell said regarding his future recruits.
While O'Connell said he is happy with his team's performance this season, he would not single out any one player above the rest.
"This team has so much balance, I don't think I can pick any one girl as an MVP," O'Connell said.
With a balanced squad intact, the Oswego State volleyball team will be working hard to improve for the start of the 2014 season.