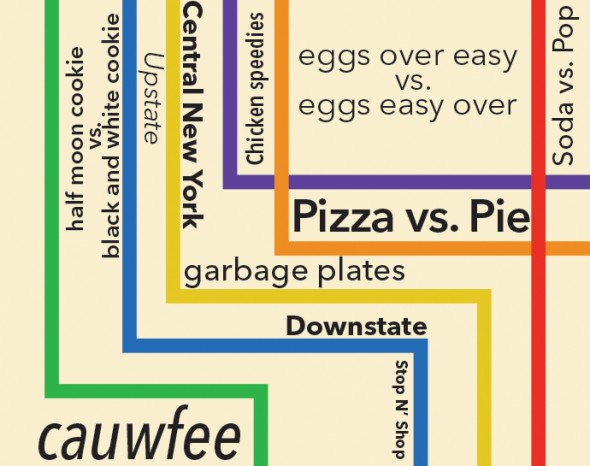 With the ever-growing communications market, the world as we see it is getting smaller. We can connect with thousands of other places anywhere in the world in just a few seconds' time. With this big worldly conversation going on, it is becoming easier for all of us to see just how diverse peoples' beliefs, ideologies, politics, religions and daily lives are.
One concept that I've found interesting to observe lately is the different ways that people talk. We don't even have to talk about a global scale here either. Since I started college two years ago, I've began to notice more and more just how differently people talk that are from different areas of New York state.
One of the things I love about New York state is its abundance of assorted geographies. In one state alone, there is one of the largest and most populous cities in the world, one of the oldest mountain ranges in North America, and one of the world wonders at Niagara Falls. The state also borders two of the Great Lakes and a                            foreign country.
All of these areas have their own dialects that people have adopted as they've grown up there. Many times, I have had prolonged (friendly) arguments with friends over   dinner about whether it's "a large pizza" or "a large pie."
Is it "eggs over easy" or "eggs easy over?" Do you say "soda" or is it "pop?" Is it "a half moon cookie" or "a black and white cookie?"
Downstaters look at me funny when I say "I love to eat garbage plates" and "chicken spiedies" and I look at them funny when they say "I live on a cul-de-sac" and "Stop-and-Shop."
Downstaters call this area "Upstate." Everyone around here calls it "Central New York." Some people "use the bathroom" whereas others "use the washroom."
People will make fun of me for pronouncing "winter" like "winner" and I will poke at them when they say "coffee" like "cuawfee." Then there's the never-ending battle on who actually has "the accent."
One of the things that college helps us is how to work with all kinds of groups of different people. College literally takes people from every corner of this state and places all of them in an area that is only a few square miles big. New York alone has been settled by various groups of people who came from various groups of people somewhere else.
Take a listen to some of the things people say and how they say them. It's just another factor that makes us all unique.