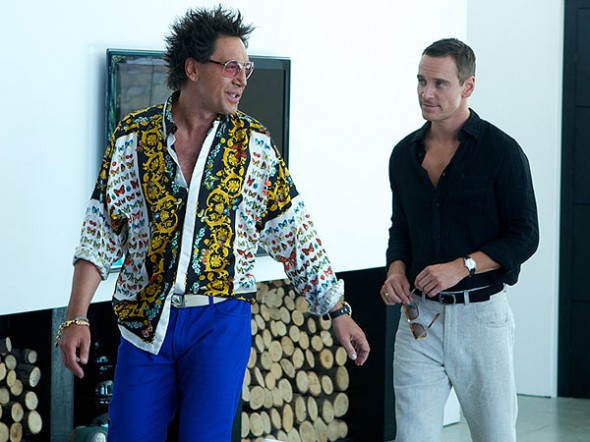 As the credits roll, "The Counselor" claims that 13,000 jobs were created during the making of the film. From briefly reading the credits, it is easy to conclude that a large part of the crew were Latino workers from Mexico. The film itself included an unusual amount of Latino actors. It is a shame, then, that the plot of the film fell into the easy and lazy formula of Hollywood cinema in its portrayal of Latinos.
Directed by Academy Award-nominated, Ridley Scott ("Prometheus"), "The Counselor" follows a lawyer who becomes involved in drug trafficking and soon discovers the risks of this harsh world. There are five major characters, three of which are played by Latino actors, in the movie: Michael Fassbender, Penélope Cruz, Cameron Diaz, Javier Bardem and Brad Pitt. "The Counselor" also features the first feature length screenplay of renowned, Pulitzer-prize winning novelist Cormac McCarthy who is known for writing "No Country for Old Men" and "The Road."
Portrayed by Fassbender ("X-Men: First Class"), Counselor is the hardest character to define. Much like the rest of the characters in the movie, there is no back-story and a lack of motivation for his actions. His life seems to be controlled by his relationship with Cruz'("Vicky Cristina Barcelona") character, Laura. The greed that the film suggests he possesses is not entirely reinforced by his actions. The story proposes that he joins a drug-trafficking deal out of desire for more money, but to the viewer it is clear that he does not belong in the dangerous life of his drug lord acquaintances. Counselor is a sensitive, scared character and his love for Laura comes off as genuine, but because his background is never revealed, it is unclear as to why he becomes involved in the narcotics industry.
Cruz' character is weak and underdeveloped. She becomes the exotic and tamed prop for Fassbender to love. The opening scene of the film not only offers insight into the Counselor's adoration for Laura, but foreshadows Laura's feelings about him. By the middle of the film, their paths are predictable and inevitable.
Cruz' character is not far from the 1930s cinema that featured Latina actresses like Dolores del Rio and Lupe Vélez in situations of no control over their path and bodies. In "The Counselor," Cruz becomes an accessory and we are supposed to be as in love with her as Fassbender is. It is almost impossible, because there is no real character. Interestingly enough, just like Del Rio and Vélez, through stereotypical portrayals, Cruz' career has been immensely successful  worldwide.
Pitt's character, a slick, womanizing and cowboy themed drug dealer named Westray adds nothing of importance to the story. At most, his character helps paint the world of drug trafficking within the film and adds a bit of  smart dialogue.
Bardem's character, Reiner, is the embodiment of the Latino male stereotype in cinema. Dressed in over-the-top, obnoxious, colorful garments, Reiner is hard to look at and believe. His fake, orange spray tan, and sexist comments leave a knot in your stomach. Reiner's two pet cheetahs and outrageous hair styles become a cringe-worthy masquerade of Latino males.
Diaz' character is a puzzle that is never solved. She portrays Reiner's money-hungry, maneater girlfriend, Malkina. A vicious and ruthless woman, Malkina ultimately leads and controls the lives of all the characters involved. Diaz portrays the cold and decided character to perfection. Like Bardem, she plays up on the story given.
Throughout the film, it is unclear whether Diaz is portraying a white woman or an exotic minority like Cruz. Malkina's race is important because either Diaz' Cuban background has been completely ignored, as in her other films, or Malkina falls into the fiery, seductress Latina roles that have limited Latina actresses and characters for years. Mainstream media often forgets that Latinos come in all shades, which is why actresses such as Diaz never land Latina roles because they don't have the "typical" Latino look of dark eyes, locks and deep accents. Roles of the Latina spitfire, and sexually-wild creatures were created by this "Latin look."
It is also important to note that, because the film never gives a clear background on Malkina's background and motives (it is suggested that she is from Barbados but never cleared up), the viewer is forced to decide on her race and most will not be able to see her as a white Latina.
There was, however, great aspects to Diaz' character. Throughout the film, Malkina is completely aware and in charge of her sexuality. Her control over her sexual desires are in some parts so strong that she intimidates the men around her, but controls them to her will. Diaz is completely aware of the male gaze and she uses it against everyone. She portrays a woman that knew what she wanted and took it. This contrasts with the saint-like image of Cruz' character, who became a victim to her environment. But because Diaz seems to be defined by her desires, the movie is falling into yet another trap. Women are either saints or whores.
The rest of the characters in "The Counselor" also fall into negative stereotypes of Latinos. From the fat, greasy and dirty truck drivers to the treacherous cartel killers, there is a small amount of positive Latino characters. In a movie set in Mexico, the only two moderately favorable characters they could find were a random bar owner and a drug lord. There was a long scene in which this important drug lord, portrayed by Rubén Blades ("Safe House") gives a beautiful monologue. Unfortunately, the advice given by Blades was only pretty to listen to, as it was unnecessary to the story.
From the gold chains, to the jokes about illegal immigrants, the film was completely insensitive and cruel to its Latino audience.
"The Counselor" featured lovely cinematography and a fantastic score. From landscape shots to raw bloody images, it was aesthetically pleasing. This was, of course, easier to do with an A-list cast.
The dialogue was at times witty, but the story was hard to follow. The movie dragged on and had a predictable and unsatisfying ending. There were messages of greed, sex, love, death and money. In the grand scope, McCarthy was attempting to lecture, but through negligent writing and reinforcement of stereotypes, these implications were lost.