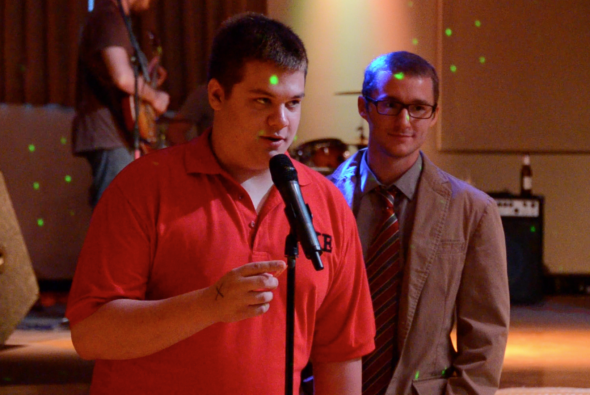 "Oswego Community Cares Day," a charity event for cancer hosted by the brothers of Tau Kappa Epsilon, was held Sunday at the American Foundry.
The event included musical acts from Our Friend's Band, ZXZ band, Behind Broken Flames and Bao and a comedic performance by sophomore Sarah Benson.
TKE brother and fraternity public relations manager Stanley Dorelien has been planning the event since May in an effort to bridge the gap between college students and the Oswego community.
Re-founded two years ago, TKE has been looking to create an event for a good cause and works extensively with St. Jude Children's Research Hospital. One of the founders of St. Jude's, Danny Thomas, was once a TKE brother so they strongly support their organization. Dorelien said a number of the brothers had a lot of cancer in their families.
"Cancer is a big cause that we feel really strongly about and we really wanted to touch that," Dorelien said. "And it just fit perfectly with St. Jude, being founded from a TKE, it also helps children with cancer, and it just came about."
Vin McCarthy, a TKE brother, has had a lot of cancer in his family history. He was really touched by the event.
"There really isn't a more noble cause than trying to support cancer research for children," McCarthy said. "You generally think you won't get cancer until you're older."
TKE raises money for childhood cancer (video)
McCarthy said that his grandparents had cancer and his father had cancer when he was young and it has helped make him the person he is.
"It's been around my life so much that I can't just not do something about it. I can't not be involved in something like this," McCarthy said.
McCarthy also said that finding a cure for cancer by raising money shouldn't be the primary goal, but instead should go to finding better ways for treatment and curving the fatality rates of cancer.
Dorelien said that he needed help with the event and was contacted by public relations major Kristen Burke. Burke works with the Student Association Programming Board and is a member of the Public Relations Student Society of America.
"I got involved in this because I have some brothers that were involved in TKE and I had charity work experience and some event planning experience," Burke said.
Burke said that advertising was difficult for the charity event. She and TKE used primarily social media to advertise and had trouble writing content that makes people interested.
"I've done event planning in my past, but it's definitely a new experience being in Oswego," Burke said. "I'm a sophomore now but it's hard trying to make new connections in a new environment, so I've learned how to appeal to a different kind of community."
Dorelien called Burke, "the heart to this project."
The people who came to the event enjoyed a chicken barbeque dinner and raffles that gave away prizes that included an autographed Florida-Georgia Line album, Macklemore and Ryan Lewis album and Jets and Giants sports gear. All proceeds went to St. Jude's.
"I'm happy about how everything worked out," Dorelien said. "I learned a lot of things."
Burke said that the event made her think about connections between the city and the college, and also in between clubs.
"If this charity has an event, then you guys should go support them," Burke said. "If I know a different fraternity or sorority or club on campus, just things that you know are happening, you should all try to support each other for the better good."
Burke expressed her thanks to everyone that came, all the local businesses that donated either as a sponsorship or all the raffle prizes and in general everyone for their support.
"As far as getting people together and showing that TKE is at least trying to reach out to the community, I think we were pretty successful," Dorelien said.