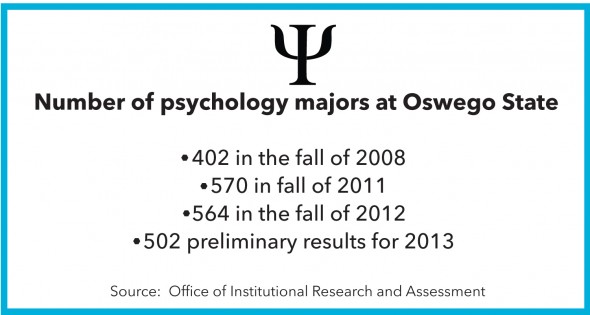 The psychology department at Oswego State has seen a sizeable increase in enrolled students over the last few years.
According to the Office of Institutional Research and Assessment, 402 undergraduate students declared psychology as their major for the fall 2008 semester. In fall 2012, that number had increased to 564, with a peak of 570 in 2011.
Psychology has the largest amount of students out of any major in the College of Liberal Arts and Sciences. In 2011, psychology passed childhood education as the second-highest enrolled major at Oswego State, behind business administration.
Other majors in the College of Liberal Arts and Sciences, including biochemistry, cinema and screen studies, creative writing, public justice and zoology have seen considerable increases in enrollment since 2008, but they average by 20 to 50 students, versus psychology's 162 student difference.
"Many people study psychology for the purpose of 'self discovery;' to understand themselves better," psychology professor Mark Mirabito said. "This has always been one reason for the popularity of the subject."
Sophomore Katie Labozzetta came to Oswego State last year undeclared and chose psychology after she realized her fondness for people, which began years earlier.
"All throughout high school, my friends had terrible relationships and they wanted me to help them with their life," Labozzetta said. "So I would just talk to them and stuff, about what they were feeling and whatnot, and they always seemed to feel better after it. So I was like 'Oh, maybe I'm kind of good at this.'"
Sophomore James Heinegg was an adolescent education with a concentration in earth science major until recently when he changed to psychology.
"I decided to change to psychology for a few reasons actually," Heinegg said. "For one, I realized my interest for the geology courses was getting less and less, so I figured I was probably in the wrong spot for a career. I liked the teaching aspect of it so I still wanted to be involved with kids and the school atmosphere. I was also told by a few people close to me that I was good at analyzing people and that psychology would be a strength for me."
Heinegg added that there may be a big interest in psychology because it is such a large field with plenty of different opportunities.
"Given the cultural climate and given what's happening in the world, people may be attracted to psychology to find a career that suits them," Matthew Dykas said, the psychology department chair.
Some people believe that the large emergence of social media and communication technologies since 2008 has increased human interaction, thus increasing awareness and interest in human behavior.
"A lot of students for their independent study will do research on social networking and the role of technology," Dykas said. "It's not my interest per se, but a lot of students come in wanting to do research on technology and especially on social media, so I think again, culturally, social media has taken a larger role in life and I think students want to understand how that works."
In addition, Mirabito said that pop culture can be tied with new media to spike young people's interest in the field.
"TV shows such as 'Dr. Phil,' 'Oprah,' and 'Dr. Drew' focus on human behavior and its underlying causes," Mirabito said. "People who watch those shows, and find them interesting may be drawn to the formal study of psychology."
Heinegg said that watching the show "Psych" also helped boost his interest in the study, but believes new media and technology are hurting actual human interaction.
"As opposed to face-to-face interaction, I feel kids are more interested in electronic communication and care less about actually seeing each other," Heinegg said. "So, for me, I don't think this makes kids want to take psychology."
Students and faculty both complimented the department faculty and programs and said that could be partly responsible for the increase in enrollment.
"Oswego State has a long tradition of quality in the psychology department," Mirabito said. "Not only is the instruction of superior quality, but research done on our campus, such as the children's study, has earned the department high marks."
According to the psychology department's web page, the faculty has experts in the fields of bio-physiological, clinical, cognitive, developmental and social psychology. Participation in research activities is viewed as a cornerstone for students' learning in psychology and prepares them for postgraduate degrees.
"The department is better than a lot of other schools in the surrounding area," Labozzetta said.
The department has grown so much that new majors have been established from separate branches of the study. Oswego State offers degrees in philosophy/psychology, psychology and human-computer interaction and human development. In the last month, human development became a new minor because of its increased interest. Though preliminary data shows psychology majors number at 502 for 2013, 139 are enrolled in human development compared to 101 in 2012, according to the Office of Institutional Research and Assessment.
With registration for spring classes nearing, there is be some concern about class sizes and possible future overcrowded numbers in the department.
"Right now, the psychology department is doing OK," Dykas said. "The college is supporting our department and allowing us to offer the classes that need to be offered. But again, if we get more students, we'll have to increase the faculty size and hire more faculty members, but right now with the faculty we have, we're managing.