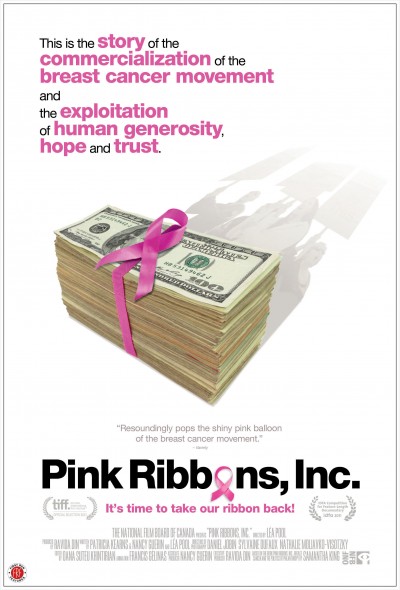 Did you know that 59,000 women in North America die from breast cancer each year? Did you also know that around the world, every 23 seconds someone is diagnosed with breast cancer, and every 60 seconds the disease claims another life?
On Monday evening, the Women's Center put together a program showing a documentary entitled, "Pink Ribbons Inc."  The film allowed the students the opportunity to learn about the industry and idea behind not only the pink ribbon effect that takes over the month of October, but also a second look at the means behind the promotion of breast cancer awareness.
According to the film, millions of women and supporters around the world join the breast cancer awareness campaign, whether its taking part in the "Avon Run" in San Francisco, the "Revlon Walk" in New York City or the "Jump for Hope" in Canada. People have engulfed themselves in the tradition of wearing pink, donating money and walking miles in support of what they think will help toward breast cancer research.
This kind dedication and energy will forever be a soothing effort, but what does it all do to affect change? Major companies such as Estèe Lauder, Susan G. Komen and Avon continue to host these festivities of hope, promoting that they've raised abnormally large amounts of money, but never say directly how much funding actually goes into research, or what's next for that matter.
The purpose of this film was to bring awareness to the fact that some companies abuse the pink ribbon movement to benefit the company rather than help the cause. The documentary showed that cosmetic companies sell limited edition items on "sale," promoting the need for a cure but use cancerous material in their products. For example, many nail polish makers include an ingredient called formaldehyde, a nail-hardening agent that is known to cause cancer, according to the National Healthy Nail Salon Alliance.
From October to December, Yoplait "supports" breast cancer awareness by telling customers to send back their pink ribbon lids after eating the yogurt. They will then donate 10 cents a lid to research. According to one of the speakers in the film, if you send three lids a day for those three months, it would amount to $340. For that little amount of money, these people might as well just make donations. Companies see more of a price increase in their pink products than they actually donate to research.
There are so few stage-4 support groups, even though this stage is the last and most fatal phase of breast cancer. Corporations have turned the awareness of breast cancer into a soft, pink loving campaign; everything that breast cancer, especially in stage 4, is not. Different brands have jumped on the bandwagon selling the disease in a certain way to promote this kind of "sisterhood," but us as constituents and buyers fail to inquire about research and lose sight of the actuality that the awareness is out and now is the time to find a cure.
Students who attended this program were amazed at the findings in the documentary and said that the outlook on the film changed the way they view awareness for breast cancer as a whole.  Victoria Brodeur, president of the Women's Center, viewed this documentary for the first time and said all of the information was    eye opening.
"I'm really shocked that corporations work like this and have no regulations. I have Type 1 diabetes and I'm sure there are big businesses that do the same thing," said Brodeur.
Mary McCune, adviser to the Women's Center and woman's studies professor said she'd always felt uncomfortable about the pink campaign and watching this documentary only fueled her curiosity.
"You want to be helpful," McCune said, "and when things like this are happening to a serious cause, it's hard to stay positive.
Becoming more than just a face in the pink crowd begins with asking questions. Purchasing bejeweled pink ribbons is a step, but we need to take actual steps to figure out what we can really do to invoke change and find a cure. On behalf of the mothers, daughters, sisters, and the thousands of women that are living the reality of this cancer, think before you pink.