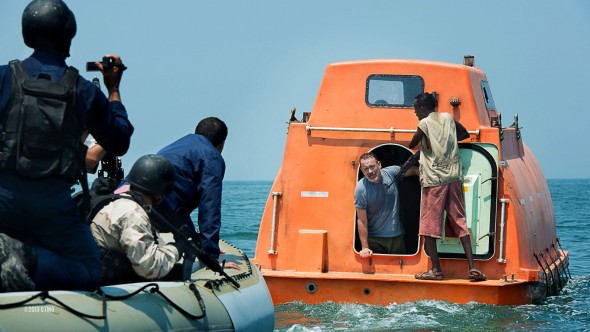 "Captain Phillips," a hostage thriller starring Tom Hanks ("Cloud Atlas"), is a thrilling ride that will grip viewers from start to finish.
Based on true events, "Captain Phillips," directed by Paul Greengrass ("The Borne Ultimatum") is about a large cargo ship that gets taken by armed Somali pirates.
Starting rather slowly, the first 20 minutes of the movie are set up of Captain Phillips getting to the ship. This is merely the calm before the storm, because once this movie gets going, it doesn't stop.
What is interesting is that the story is not told merely from Captain Phillips' perspective. Viewers get a glimpse into the pirates' lives, the hellish conditions they live under and why they take over the ship in the first place. It doesn't make the pirates sympathetic necessarily, but helps the audience understand their actions in the course of                 the film.
The Somali pirates are played by little-known actors and each is absolutely brilliant. They manage to be scary but also realistic.
Hanks also gives an incredible performance. From the actions he took, to both the fear and calmness of the captain, Hanks potrays every emotion perfectly.
The film focuses on Phillips and the captain of the pirates, Muse, played by Barkhad Abdi in his debut role. The antagonistic relationship is at the center of the film, along with the tension involving the rest of the crew. After Captain Phillips is taken hostage, the action revolves around the growing tension in the crew of the pirates.
The scene in which the pirates take the ship is the most intense one in the entire movie. It is shot extremely well, with quick cuts between the pirates attempting to get the ladder on and Captain Phillips trying to evade them. It is perfectly done, nail-biting action that will leave viewers on the edge of their seat.
"Captain Phillips" is a great hostage thriller. The acting and the directing elevate it from being just a generic action thriller. While it does have a few quiet, slow moments, they only add more to the tension.  Above all, Hanks' heart-wrenching performance makes the movie.