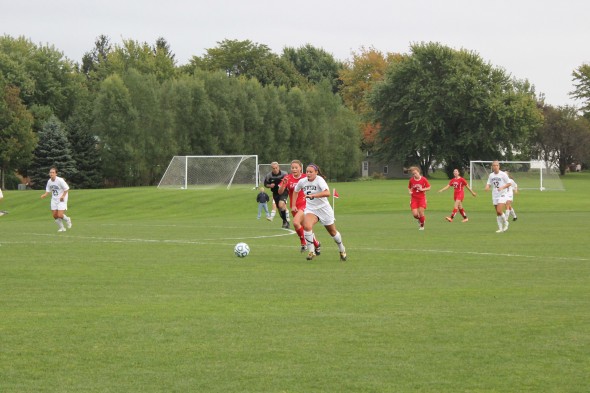 Nikki Liadka sits down with two of her teammates, senior Raquel Vescio and junior Georgia Traynor, by her side. These three, captains of an Oswego State Lakers team that has gotten off to a solid 7-4 start, have known each other for three years.
They've played over 30 intercollegiate soccer games together. They've won thrilling games together and they've suffered disheartening defeats together. Now Liadka's a senior, and it's all going to come to an end.
"It's going to be sad," Liadka said. "My coach is always telling me I only have X amount of games left and then I'm done."
Liadka has made the most of her last year so far. She's her team's leading scorer for the fourth year in a row, with 10 goals in 11 games.
She has a nagging quad injury, but she's started every game this season. She has no choice. She's a captain and that means something to her.
"Everyone looks up to me and expects me to work hard and I can't let them down," Liadka said.
Her teammates have taken notice of her efforts.
"Every single one of us looks up to her," Traynor said.
Vescio echoed Traynor's thoughts on Liadka's efforts.
"Whenever we're down she'll try to get us back up," Vescio said. "She's a leader in that way."
Liadka has earned her captaincy with her strong performance on the field, leading the Lakers in scoring every year she's played for them.
She ranks fourth in Lakers' history in scoring and goals, with 106 points and 43 goals in 58 games she's played.
"She's always been a scorer," Liadka's head coach Brian McGrane said. "She scored in high school, in club, and now for us. She's a very good athlete and a great leader on the field."
While many players who struggle with the transition from high school to college, Liadka dominated the field from the start.
During her senior year in Liverpool High School, she scored 10 of the team's 21 goals that season.
A year later, she scored seven goals in 13 games off the bench as a freshman  for the Lakers.
Though she was successful on the field, Liadka had struggled with a few insecurities her freshman year.
"I was really nervous," Liadka said. "I was afraid no one was going to like me. I worried that I wasn't that good."
As an underclassman, Liadka looked up to Lakers legend Shelly Bateman, who was named 2013 Outstanding Senior Female Athlete and played for the Lakers from 2009 until her graduation last year.
"I wanted to be her," Liadka said. "She taught me to be confident."
Batemen is fourth all time in Lakers history in assists and fifth in goals and scoring, right behind her pupil, Liadka.
Liadka has mixed feelings about surpassing Bateman.
"I feel bad because she did really well, but you always want to beat somebody you look up too," Liadka said. "I like it."
Even as a senior, Liadka still feels pressure to perform well.
As the Lakers' main offensive weapon, Liadka puts the team's success on her shoulders and feels the heaviest burden when things go wrong.
"I feel bad when we lose and I don't score just because people expect me to," she said.
Liadka almost didn't become a Laker. She was originally supposed to commit to SUNY Fredonia, but the Blue Devils' head coach Chris Case, told Liadka she was "too slow" to play for their team.
"He regrets that," McGrane said.
After that, Oswego became an attractive option for Liadka.
"I didn't have to say much to get her to come here after the Fredonia coach shot himself in the foot," McGrane said.
Coincidentally, McGrane's brother was Liadka's coach in Liverpool High School. The close proximity of Oswego to her home in Liverpool was the final selling point.
"I go home all the time," Liadka said. "I love it."
Even with her massive success on the field, Liadka has not lost sight of the importance of her education. She's a major in applied mathematical economics and is set to graduate on time. Liadka said soccer has been a help with her education as opposed to a hindrance.
"I think it's a lot easier with soccer because I know I have to do it because I have soccer," Liadka explained. "It's not like I have extra time to lay around. I know I have to get it done."
With only a few games left in her last season, Liadka looks back fondly at her time with the Lakers. "It's been great," she said. "I've met a lot of people and a bunch of us are still really close friends, and mainly it's because of soccer."