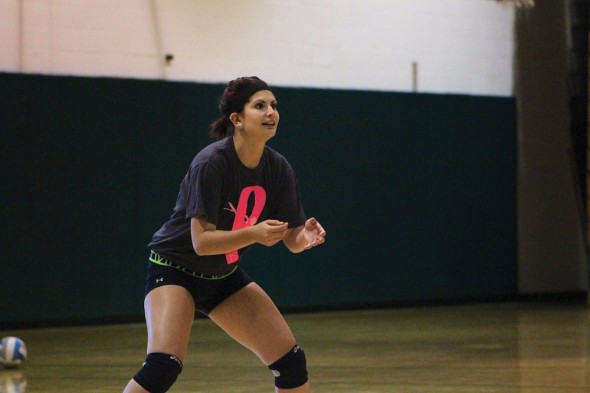 The Oswego State volleyball team is having one of its best seasons in recent memory, and although the core of the team consists of freshmen, it still needs a veteran presence to lead the squad. That veteran leader is senior Sabrina Sutton, the captain of the squad.
Sabrina Sutton was born and raised in Fulton, N.Y., which is only a short drive away from Oswego State. The school's proximity to home influenced her decision.
"It was a decision between Oswego and Cortland," Sutton said. "The reason I chose Oswego was because it was so close. Everyone comes up to watch a lot of the time. I basically grew up in Oswego."
Sutton, an outside hitter, is very happy with the team's performance so far this season.
She is a staple of the team, and her presence and performance is one of the reasons the team is having one of its best seasons in program history.
She has played since her freshman year, but took time off during her sophomore year due to the coaching situation.
However, she came back the following year and did not miss a beat. In fact, she made an effort to improve on the court and as a leader.
" I feel I became more of a leader over time," Sutton said.  "It's important to be one since the team currently has ten freshmen."
Head coach J.J. O'Connell changed the attitude and culture of the volleyball program as a whole, which Sutton said she appreciates.
"It was a pretty easy transition, there was some awkwardness, but he squashed all of the previous tension," Sutton said.
The senior plans to continue to have volleyball in her life after she graduates from Oswego State following the 2014 spring semester.
"I'll play in a random league in the summer," Sutton said. "I'll help run a camp."
As for her future plans at Oswego, Sutton may not be ready to leave just yet.
"J.J. (O'Connell) has asked me to come back and be assistant coach," she said. "I might take up the offer."
Considering the team will still consist of several young players, it would make sense to think that the team will be left with something missing when Sutton graduates.
However, she feels that there are plenty of players who could step up and fill her role after she leaves.
"I don't think it'll change much," Sutton said. "There are very capable players who can step up and lead. I feel someone like Meaghan Roefs is someone who can step up and take control."
Sutton's leadership is also seen off the court. She likes to think that any player on the team can come to her for help, whether it's volleyball-related or more personal.
The Oswego State volleyball team will miss a player of Sabrina Sutton's caliber when she graduates.
Whatever she may say, no matter how humble, Sutton knows that she will be tough to replace, not just for her play on the court, but for her leadership off it.
Sutton will lead the volleyball squad to SUNY Potsdam for pool play this weekend.
The Lakers will return home for Dig Pink weekend to raise awareness for breast cancer when they host Sage College and Alfred University on Saturday, Oct. 19.