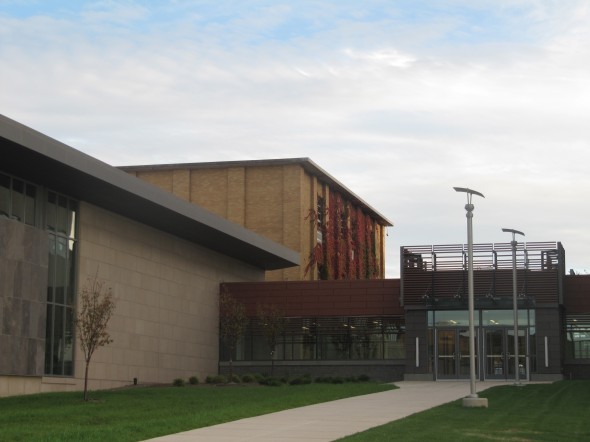 Starting in the fall of 2015, the grade point average requirements necessary to gain admissions to SUNY-system education programs will be raised in an effort to find candidates better prepared to be successful teachers. The policy, which has been instituted in all SUNY education schools, has received mixed feedback by professors and students at Oswego State.
Barbara Garii, an associate dean of the School of Education at Oswego State, explained how the change in admissions requirements will affect Oswego State.
"Right now, while any entering first-year student may declare a teacher preparation major, all teacher candidates in the School of Education are required to maintain a 2.50 or better GPA to register for the courses in the major," Garii said. "The new expectation is that entering first-year students will be required to have a high school GPA of 3.00 (B) or better to declare a teacher preparation major in the School of Education upon entry to SUNY Oswego."
As for students who enter as non-education majors but change degree programs and enter the School of Education, the requirement is that they have to have a 3.00 GPA or better in their previous college classes, Garii said.
"The SUNY System, in line with recommendations from the governor's office, is ensuring that teacher candidates are well-prepared for the profession," Garii said. "Thus, the 3.00 GPA recommendation supports the rigor associated with teacher preparation."
David Doyle, the director of communications for SUNY, said most of the change is about the big picture.
Doyle said the system is put in place to improve education in New York state while increasing  standards in the SUNY system, both goals of Gov. Andrew Cuomo.
"The quality of New York's higher education system depends on having the best and brightest teachers in our classrooms teaching our students," Gov. Cuomo said in a recent press release. "These new admission requirements will help ensure that we are recruiting from exceptional candidates to educate our state's students. I applaud this action by SUNY to continue striving for higher standards and better results."
SUNY's mission is to increase the standard of admission uniformly across the system of public universities, Doyle said.
While the governor and SUNY officials have said the policy will lead to stronger teaching candidates, opinion on campus is less certain.
Barbara Beyerbach, a professor of curriculum and instruction at Oswego State and a part of Project SMART, a program designed to improve K-12 teaching in the area, said that professors were not consulted and expressed concern that the program could be exclusionary to many students.
"Requiring that candidates have a 3.0 to enter a teacher education program excludes many potentially wonderful candidates – e.g. those who maybe were underprepared in K-12 schools with fewer resources, for example, schools in areas with high concentrations of poverty," Beyerbach said in an email. "These candidates are often first generation college students, and often students of color. Or they may be second career candidates, who may have had some college 20 years ago and underperformed compared to their actual performance in the world of work, or in the military. When provided with supportive college environments, such students often do very well in academic majors and become wonderful teachers, providing much needed diversity to the teaching force."
Beyerbach added that the policy has differing effects on each field of teacher education.
"There is a shortage of teachers in mathematics and sciences for example, and majors in those fields often have lower GPAs than in other fields," Beyerbach said. "Why is it OK for a person to become a scientist with a 2.5 entry GPA, but not a science teacher?"
According to Doyle, an applicant can either have a GPA of 3.00, or be ranked in the top 30 percent of his or her graduating class. For students at some SUNY schools, registration for education program does not occur until as late as junior year, so at those schools, students have the first two years of their college careers to meet the GPA requirement necessary to enter the education program.
Rameen Mohammadi, the associate provost of Oswego State, also said he had concerns for how the policy could affect the amount of strong teachers the school is able to produce.
"I hate to see us stopping to educate people saying, 'Oh no, you can't possibly be a teacher because you can't maintain a 3.0 GPA," Mohammadi said. "It's difficult to understand or measure how good a teacher someone is going to be after freshman year where they haven't done anything in education."
Mohammadi said it is difficult to know how a strong a teacher someone can be until they get into more career-oriented activities such as student teaching in their junior and senior years.
"That's really when you are able to see whether someone is a good teacher or not, which frankly has nothing to do with GPA,'" Mohammadi said. "Because we don't even give you a grade for those experiences. Student teaching experiences are graded as satisfactory or unsatisfactory. You get an S or a U and it doesn't affect your GPA, which may explains Oswego's opinion—the piece that is most critical to demonstrating whether you can be a teacher or not is not even graded."
SUNY is currently the No. 1 provider of teachers in New York state. The SUNY system supplies 5,000 new teachers every year, which totals around one-fourth of all of the teachers in the state.
"When SUNY makes a move like this, the effect is substantial," Doyle said.
The GPA requirements for students after being registered for the education programs are not changed by these new SUNY-wide requirements. They are not uniform across the system, and will remain at whichever level they are now, despite the new standards, Doyle said.
This change is most definitely a positive development, Doyle said, adding that the impact will make SUNY education programs more prestigious and competitive.
"Although I understand that what they are trying to do is up the bar, what they're actually doing is creating a more narrow definition of the bar, not raising it," Leah Russell, an adjunct professor in the school of education said. "They're being exclusive in a way that will decrease chance for diversity of perspective and background, and will prevent people from becoming teachers that have the potential to be some of the best teachers because of the life experiences that they have had, not because of the grades that they got."
Doyle said that the policy should simply improve quality of the teachers being sent into the field by ensuring all candidates have passed through strong standards.
"These are the kind of individuals who you want in a classroom," Doyle added.
Russell described the changes as arbitrary and dismissing of students "based on a number." Russell said she is concerned that students who are deserving in ways beyond GPA could end up losing their opportunity.
"The entire system is focused on looking at the student as a number, as a performance of intellectual ability," Russell said. "The focus is on the product, not the process. You have to expect and demand the same quality of your teachers that you hope to achieve with your student population."
Carole Pearsall, a sophomore childhood education major, with a concentration in the arts at Oswego State, said that, if the policy existed when she applied, she would not have been able to enter the teacher education program.
"I am glad they didn't have those requirements when I applied, or else I wouldn't be at Oswego," Pearsall said. "This is the only place that accepted me, so I probably wouldn't even be in college right now."
Along with the increasing standards for teacher prep programs, Cuomo has also called for the creation of a bar exam for teachers.
"As a parent, you certainly want to see the strongest teachers coming out of any school education program teaching your kids," Mohammadi said. "I am, however, concerned in certain fields, if the admission requirement is 3.0 where the average GPA is below 3.0, then half of the students in those disciplines are not going to qualify to become teachers."