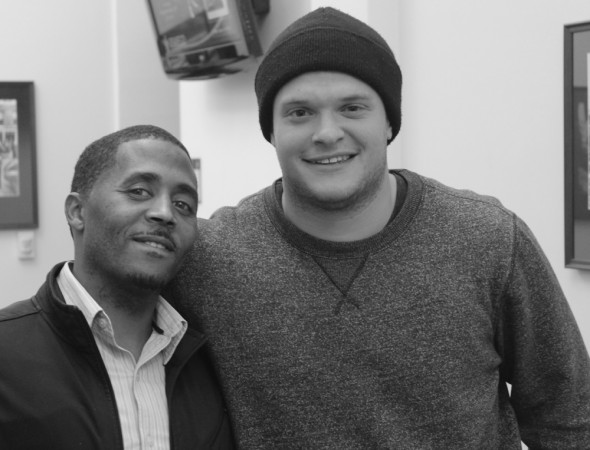 Sponsored by the department of cinema and screen studies, a small number of students and faculty gathered this past Monday, Sept. 23 in Sheldon Hall to engage in heavy and emotional discussion about Chicago's famous housing project, Cabrini Green. Following the screening of the documentary.
"The Greens," the intimate group was able to talk and ask questions of the filmmaker and producers Sam Spitz and Teddy Williams.
Before showing the film, Spitz asked the audience about their knowledge of Cabrini Green or of public housing. When most people hear the words "public housing" or the "projects," they immediately think of drugs and violence. And that is exactly what Spitz thought of his entire life about the famous housing project near his hometown in Chicago. Spitz explained that after graduating college and spending a summer in Mexico he came back home feeling lost. He initially wanted to work on a project about the red line in Chicago. In the red line, he met Teddy Williams, a humble barber that would take him on a journey back through time and of self-discovery.
"I still don't really know where I'm going," Sam Spitz said, who graduated from Colgate University. "This project led to someplace completely unexpected and that's where the film will pick up."
"The Greens" follows Spitz and Williams through a brief history of Cabrini Green residents. Williams, who grew up in Cabrini Green, shares childhood memories and takes Spitz on a tour of where the Cabrini Green buildings once stood. Cabrini Green was a Chicago Housing Authority public housing project with a reputation of gang related violence and in 1995, demolition of the high-rise buildings began. Now with grass and only a few row houses remaining, Cabrini Green is a remainder of the issues surrounding public housing in the United States.
For Williams, Cabrini Green was home. Even with all the negative things that he witnessed growing up there, he is fond of the memories and attributes his perseverance to these experiences.
"I'm strong because of a lot of things I witnessed in Cabrini Green," Williams said. Both Spitz and Williams explained that they saw and experience racial profiling while at Cabrini Green: Williams during his time living there and Spitz during the filming of the documentary.
"A lot of people are not educated about their rights and a lot of the things that happened…as far as the police deciding that they wanted to come in your house or grab you in your car without your permission…people didn't know how to put up a fight or how to speak up on situations like that because they were uneducated," Williams said.
For Spitz, his experience while filming the movie changed his perspective of the law and police officers. "The idea that the law is colorblind, these experiences have blown up that myth for me," said Spitz after sharing that he was stopped and manhandled one night in Cabrini Green.
Earlier in the conversation he explained that he was used to being the white privileged man.
"As a privileged white guy, I'm used to being heard. People like me get to speak and when we do, we're heard," Spitz said.
With this knowledge, and Williams' encouragement, he set out to tell Williams' story. A former alcoholic who dropped out of high school, Williams is now a changed man with a fierce belief in God. He believes that the treatment and portrayal of Cabrini Green in the media needs to be brought to life.
Williams explained that most people did not believe that he was from Cabrini Green because he is mild-tempered and does not appear like a "thug" or "gangster." Although he never graduated from high school, it was not because of Cabrini Green. He recalled childhood memories of creating haunted houses with his neighbors in the abandoned building and playing around on the roofs.
A third and important character in the film is L.C. Harris Jr. also known as Batman. In the film Williams introduces Spitz to Batman and his family who live in one of the remaining row houses. A bond was    immediately formed.
"I was in a very dark place. My self-esteem, my confidence was at an all time low," Spitz said. "I found that for some reason I was more accepted by this family, the Harris's, than I was at Colgate [University]."
Spitz said during filming he began to enjoy himself and relax.
"I was having fun and it's not about asking questions or inquiring about certain theories that I read," Spitz said. "Socially it was a place I could go and feel welcomed."
When asked about the length of the film, Spitz explained that it was made short for a reason. The 20-minute film leaves the audience wanting more but Spitz explained that he wanted the audience to "make meaning of the film."
"The film was short because we wanted to have a format where we could have conversations and where conversations be the emphasis of the event," Spitz said. "I wanted this film to be left open ended for conversations like these so that as a viewer you can begin to think for yourself about what you just saw. I worried that because of what I look like and where I'm from, if I were to wrap this up in a bow, that would be the lesson. I can't do that because I don't think this experience has come to a resolution."
Both Spitz and Williams are hopeful about their future as they part ways since Spitz is headed to graduate school in England.
"For us the highest use for this film is to start conversations like these," said Spitz. "Film festivals are important but these conversations are more important."