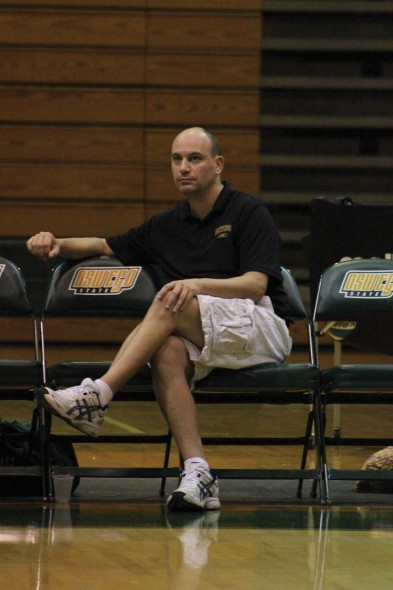 Oswego State volleyball head coach J.J. O'Connell has changed the attitude surrounding the program. He turned the team around and has led the Lakers to a 12-9 record this season.
Despite the changes that have surrounded the team during his tenure at Oswego State, O'Connell has made an effort not to change as a person or coach.
"I've always been an Upstate New York kind of guy, hiking, biking, and things of that sort," O'Connell said. "Stuff you can't really do too much of in the city in comparison."
O'Connell, along with the Oswego community, is thrilled that he has decided to return to upstate N.Y. to continue, and potentially end, his volleyball coaching career.
Born in Auburn, O'Connell grew up in Ithaca, where he played volleyball for Ithaca High School as a middle hitter.
O'Connell wanted volleyball to remain in his life after high school, so he became a coach. He served as an assistant coach at SUNY Cortland, Ferris State University and The College at Brockport for a combined eight years.
His talent as a coach was evident and earned him a head-coaching job at Stevens Institute of Technology, where he coached for a decade.
Then he decided to apply for the head-coaching job at Oswego State when the position became available.
"I believe I was chosen over the other candidates, people who I know very well, because of what I accomplished at Stevens," O'Connell said. "In three years, I brought their record from 3-18 to 28-5."
O'Connell's players earned many postseason accolades during his tenure at Stevens. Six players earned a total of 12 AVCA All-America honors.
In ten seasons at the helm of the program, O'Connell accumulated a combined record of 272-92 with a .747 career winning percentage.
O'Connell earned many accolades while at Stevens, something he hopes to replicate while at Oswego State.
Despite all the success he had at Stevens, O'Connell felt it was time to turn the page and Oswego State has been the perfect fit.
"Oswego has revitalized me," O'Connell said. "After coaching at Stevens for years, I felt like I needed new challenges and that's what Oswego was able to offer me."
The coach has had to work hard to adjust, as the Oswego State community is a lot different.
"Stevens is a private school," O'Connell said. "With a much smaller amount of majors compared to Oswego, which has many majors. Also add in the fact that is a public institution, and it's completely different."
O'Connell is thrilled to be coaching at Oswego State, but believes his coaching days will likely come to an end by the time he leaves the program, whenever that might be.
"Oswego will be the last place I coach," he said. "After I leave Oswego, I plan on retiring from coaching. But that isn't in the near future. I plan on running a 10 to 15-year program."
After a few down years, the Oswego State volleyball program has been revitalized under O'Connell's tutelage.
"What me and my team are trying to do here is try to change the culture," he said. "One way to do that is to find a way to beat tradition and sometimes it's hard to beat tradition."
Changing the tradition won't be easy. But O'Connell has taken steps in the right direction during his tenure.
A new coach was needed after a down period to provide stability to the program, and O'Connell has been able to provide that, along with a commitment to the program and his players.
"I'm a coach who will be there 24/7 for my team," O'Connell said.
O'Connell has tried to share the passion he has for the game with his players and has changed the culture of the program in just two short years.